Kathryn Thomas reveals that her recent visit to Rwanda, for a Radio 1 Documentary, was emotional and a great learning curve.
You may have seen the photo of Kathryn Thomas in Rwanda on the front cover of the Sunday Independent's Life magazine recently, which was taken when she was in Africa to make a documentary for RTÉ Radio 1.
The Voice of Ireland presenter told RTÉ TEN how it came about: "I had been working with Elizabeth Laragy and we had done a documentary called Music Passport, looking at music within the Travelling community.

"We really enjoyed working together, it was my first radio doc that I'd done. I've been sitting in the John Murray chair when it was vacant, whenever I was asked, or needed.
"I still feel like I'm getting my radio legs. They're nowhere near as well-walked or as well-traveled as my television legs but I still feel that I've a lot to learn. Live radio is one thing but working on a documentary it's a very different process.
"You work very closely with the producer, Elizabeth, who is absolutely brilliant and we had a great time and established a good and strong working relationship.

"What's great about it is you're out and about meeting people and for me that's what my passion is, its human interest, its listening to people's stories. That's what I'm really enjoying doing, I think that's what I'm beginning to get good at."
She added: "Elizabeth knew the 20th anniversary of the genocide was coming up and she knew that every media outlet from around the world would be doing something to commemorate it so we got chatting."
Elizabeth and Kathryn decided to focus on the music of Rwanda to tell their story: "That's what the whole documentary is about, music historically in Rwanda. I've travelled all over Africa, in the ten years of No Frontiers, Rwanda was one place I'd never been, but I understand African music and I understand how it is almost like the Irish, how its so important to us.
"It's looking at the power of music, how they used it negatively for the genocide and how today they're still using it to rebuild and to heal the country after such a horrible time."
Music Passport: A Journey through Genocide is on Easter Monday at 2pm on RTÉ Radio 1, listen live and via the RTÉ Radio Player or the Radio 1 App on your mobile.
Speaking about the effect music had during the lead up to the genocide which lasted for a 100-day period from April 7, 1994 to mid-July, Kathryn added: "Music out there was a massive part of how they instilled all this propaganda, radio was the king of communication and they used it as a weapon. They started broadcasting all this hate radio and a lot of music was specifically written to insight massacre and murder.
"Horrible times and it [the music] was a different way of coming at the whole history of it. We [producer Elizabeth and Kathryn] thought it was a good and different way into it."
Given the content of the documentary, which is looking back at the ugliest time in Rwandan history, the experience was an emotional one, made all the more so by a personal experience for the popular presenter before she left the country.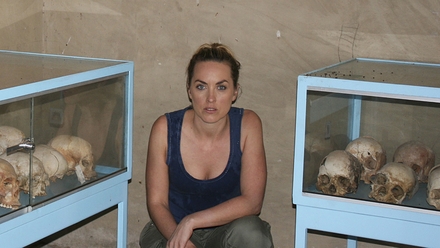 Kathryn Thomas surrounded by skulls in a Rwandan memorial centre
Kathryn explained: "You know what and I haven't said this to anybody, I was an emotional wreck leaving because my grandmother passed away the day I flew out to Rwanda.
"That was six weeks ago now but I was so thankful that I was with her. She passed away at 11.15am and I was in the airport at 12 o'clock. It was quite difficult going over and I was quite raw anyway but I was glad I was with her. When we were there I realised, going into these genocide sites and talking to the survivors, I mean, my grandmother was a great age, she was with her family, the privilege of being with her when she passed away.
"It gave me great comfort and it actually gave me great strength when I was out there. All of a sudden, you're surrounded by death and this is not how death should be.
"This was people's lives cut short, children, toddlers [and] mothers...While I'd spent months reading and researching, nothing quite prepares you for when you're there. It was difficult but I think because a lot of what we were doing was positive, we didn't want to focus on the past, we were looking at where Rwanda is now and where they are 20 years later, at how they're created a society where people are back living together and it is a society of forgiveness.
"How you live in a village beside a man or woman who murdered your husband, your wife, your neighbour, your kids, your football friends – they've managed to create this society where people are living together and it is very much a society of forgiveness. So that's quite powerful and music is playing a huge part in that society."