Music, mayhem and mirth are all on offer on Friday night.
Later... with Jools Holland
BBC Two, 11:00pm
It's amazing just how many corny wisecracks and one-liners you'll put up with when the rest of a show is this good. Series 44 (!) of Later opens with Neneh Cherry, Eagulls, Engelbert Humperdinck, Clean Bandit, Agnes Obel and old friends Elbow, who will be playing tracks from their grower of a new album, The Take Off and Landing of Everything. In the coming weeks we'll also see performances by The Black Keys, Coldplay, Joan as Policewoman, Sharon Jones & the Dap Kings, Kelis, Paolo Nutini and St Vincent, among others. Friday night really feels like Friday night again.
The Bourne Supremacy
UTV, 10:15pm
Ah, movie comfort food - the films you watch again and again because you just don't have the mental muscles at the end of the day to put on something new. Matt Damon's second Bourne outing from 2004 is a prime example of the genre, and director Paul Greengrass' leaner, meaner take on the spy game certainly gave the Bond boffins plenty to think about. Jumping cities, this hold-your-breath gem never loses pace and provides some great set-pieces, with Moscow adding itself to the car chase honour roll that includes New York (The French Connection), San Francisco (Bullitt), Paris (Ronin) and Rome (The Italian Job). The Bourne Ultimatum is on in the same slot next Friday. Please Matt, do the world a favour and become Jason Bourne again.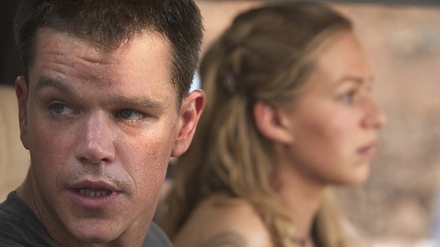 The King of Comedy
Channel 4, 12:15am
"Better to be king for a night than schmuck for a lifetime." Martin Scorsese's endlessly quotable 1983 black comedy gave Robert De Niro one of his greatest (yet still overlooked by many) screen roles and presaged much of the celebrity culture we are bombarded with today. De Niro plays Rupert Pupkin, a delusional wannabe who kidnaps one of America's most celebrated talk show hosts and comics, Jerry Langford (Jerry Lee Lewis) - not for money, but for his big break in showbusiness. Rupert's accomplice is Masha (Sandra Bernhard), a stalker of Jerry's who's not prepared to let Rupert do all the talking. And it just keeps getting better. So sit back, enjoy and remember: friendship is a two-way street.