Eastenders star Laurie Brett will make a permanent return to the BBC soap later this year.
The actress, who plays Jane Beale has now finished filming her latest stint on the show, but will be back as a regular cast member from the autumn.
Brett is taking a mini-hiatus from Eastenders again as she has to film a number of Waterloo Road episodes.
Speaking at an Eastenders press event she said: "I'm on screen until the funeral and then I do have a job commitment, but then I will be back in September. I'm back in September once I've finished at Waterloo Road."
EastEnders' executive producer Dominic Treadwell-Collins also confirmed that Jane's return will be permanent.
The soap's viewers will see Jane on screen for the next few weeks as she deals with the devastating loss of her stepdaughter Lucy.
After Lucy's funeral, Jane will leave Walford again for the time being.
Brett, who originally played Jane between 2004 and 2012, made a shock return to Eastenders at the beginning of this year.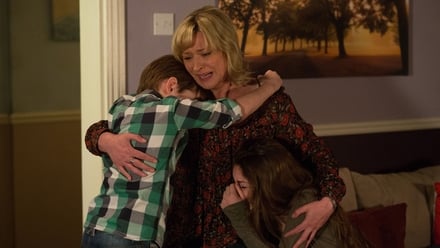 Jane Beale comforts a devastated Bobby and Cindy on Eastenders