Willie Nelson has been reunited with his stuffed armadillo, Ol' Dillo, after the onstage mascot was kidnapped in Nevada earlier this week.
Billboard reports that staff at the Westin Lake Las Vegas resort in Henderson said Ol' Dillo went missing while fans were greeting Nelson after a show on Monday night.
Nelson's road crew informed the resort of Ol' Dillo's disappearance in the small hours and asked that security footage be checked.
On Tuesday morning, the Westin's Marketing Director, Matt Boland, was outside the hotel when an apologetic man pulled up and handed him a shoebox, which he asked to be given to Willie Nelson.
Once out of the box, Ol' Dillo wrote on Facebook: "I'm back. The showgirls were nice."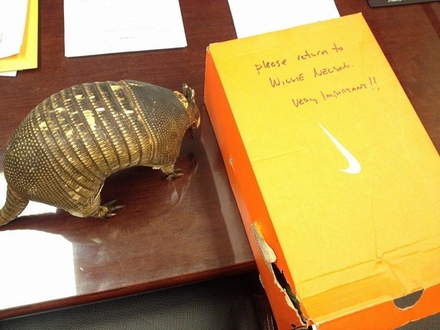 Photo courtesy of Ol' Dillo