Suzanne Byrne catches up with the vocal harmony group who reveal they are big fans of Imelda May.
Timmy Matley, Lachie Chapman, Mike Crawshaw, Mark Franks and Darren Everest aka The Overtones, came bounding into the RTÉ Ten offices, full of smiles, handshakes and hugs. They instantly brightened up the gloomy day outside and from their playful jokes and band banter, it's clear to see this group of lads are genuinely friends and pretty unaffected by their popularity.
With three Top 10 albums to their credit, The Overtones are a covers act, but not the usual covers act you might see in the pub on a Saturday night. Polished and presented in suits and ties, their harmony heavy renditions of classic songs like Blue Moon and Pretty Woman have been a hit with fans across Europe. Critics may have given them a hard time, but they do their do-wopp extremely well and the public have fallen in love. Here's what they had to tell RTÉ Ten.
You kicked off your recent tour in Timmy's home town of Cork, this seems to have become a regular event?
Darren: It's definitely become a ritual for us to start our tours in Ireland - in Cork and then to Dublin. The Irish people are so lovely and warm, it is a nice way to ease yourself on to tour, especially in Timmy's home town, they go crazy for us and him. It's a fun night.
Timmy: I was blown away by the crowd in cork. It was our first night so we were all a bit nervous but it was so welcoming and the vibe was great. To look out into the audience and see everyone you know – it was just unreal.
Lachie: I remember meeting Nana Murphy afterwards, she was so cool.
Timmy: Nana Murphy is my friend's Nana. She is in her late 80s and she was there in her fur coat. She's a legend.
Do you enjoy when people join in singing with you or would you prefer they sat back and listened?
Mark: We love it. We have a section of the show where we encourage people to sing with us. Our shows are about having a big party, dancing and singing. It's funny when you are tour the first night is very nerve wrecking, I find myself standing there wondering what moves are coming next. But when they are singing along with you, it just eases you into it. All of a sudden you are like this is what it is all about.
What is your favourite thing about being on tour?
Mike: It has to be showcasing the new songs. We have had so much feedback on twitter from fans about the tracks, but to perform the live and to see everyone dancing along it is just brilliant.
And the worst…
Darren: We are not going to beat around the bush, the bus is not a nice bus. It is a laugh because we are on there with the crew and the band, but one of our sound engineers snores like a rhinoceros. And it was quite scary getting the ferry over to Ireland, the weather was absolutely mental. The boat was swaying from side to side.
Mark: And the chewing gum in the bunks the not-so-clean sheets is a bit grim. My ear plugs where stuck to chewing gum. There has definitely been a few death metal bands on our bus – it is not the glamorous life everyone would expect it to be.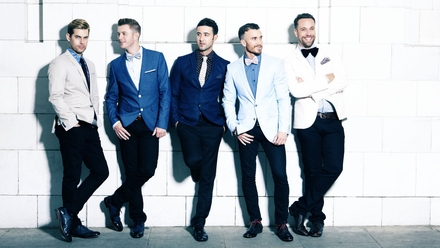 Do you realise that you have you fans all over the world now, not just in England and Ireland?
Lachie: I know! It is a funny one how far our music has spread – to places we didn't even know they had heard of us. We've got fans in Indonesia who tell us they have our album and in Japan are buying it on iTunes.
Darren: I was in the Carribean on a cruise on my holiday and there was a lounge band in the bar and they were singing Gambling Man.
Who would you most like to collaborate with?
Timmy: Bublé would be the ultimate choice. Imelda May would be amazing. We did a festival during the summer that she was singing at and she is just unreal and such a nice girl. She is awesome. I was slagging her over the Credit Union ads!
You were knocked out of the X Factor in the early stages, would you say that was a blessing in disguise?
Mark: I think everything happens for a reason, you learn that with the experience. We wouldn't have our journey happen any other way. We were grafting for 3 or 4 years before we met Lachie and since we met him everything started to fall into place and happen for us. As a five piece we have worked hard for 3 or 4 years, we have earned our stripes and it is rewarding and it is special when you know you have worked hard for it.
Timmy: Speaking of the X Factor I would love to have Sam Bailey on our next album – putting it out there. I would love to sing with her.
Your current album Saturday Night At the movies – for anyone who hasn't heard it yet, tell us about it?
Mike: We are really really proud of the album. We have put months of hard work into it and it is an album that it seems the fans have really connected with. There are some great classic songs from some classic movies – Blues Brothers, Dirty Dancing, Grease, Breakfast at Tiffanys - it is a real party album.
What's next for The Overtones?
Timmy: We have started talking about album number 4 which is great for us because nowadays in the music industry you release an album and then you don't know what is coming next. It is really nice to hear that the record label sees us growing and growing!
A new Multipack of The Overtones new album, 'Saturday Night at the Movies' is available to buy now exclusively at Golden Discs which contains the Standard CD album shrink-wrapped with a Mother's Day card containing bonus disc and a Mother's Day message from the band. The bonus disc will have 5 extra tracks never before released.
RTÉ is not responsible for content on external websites