She's not actually due to turn the big 2-0 until next month (April 12th to be exact) but Saoirse Ronan got her birthday celebrations off to an early start with a Bridesmaids-themed party.
The Grand Budapest Hotel star donned a pink bridemaids-style gown, complete with puffed-up sleeves, and joined friends - including her Lovely Bones co-star Rose McIver, who tweeted this picture.
Saoirse had told Elle.com of her plans for her birthday bash: "I'm a big fan of Bridesmaids. I'm having a birthday party in the next few weeks - my birthday isn't until April - but while I'm still in the States with all my mates over here.
"We're going to try and get a chocolate fountain, an Eiffel Tower, heart-shaped cookie, little toy dogs as party favours, and everybody has to wear a bridesmaid dress."
The big question is - did they all sing Hold On by Wilson Phillips at the end of the night?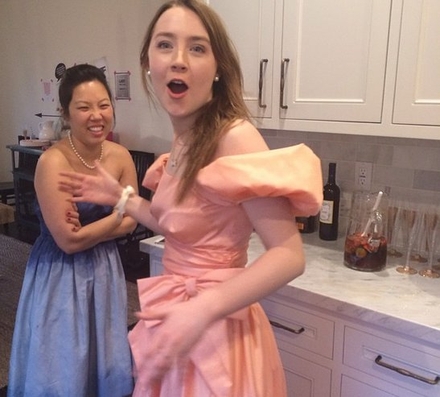 @imrosemciver: "Celebrating this girl's birthday early with a 'bridesmaids' themed party complete with a phone call from Kristen Wiig. Love you Saoirse."