With shooting on the SHOWTIME/Sky Atlantic Victorian psychological thriller series Penny Dreadful set to finish next week, the show's creator and executive producer, John Logan, has described Ireland as "a truly inspirational place to film".
The series, which tells the origin stories of literary characters such as Count Dracula and Dorian Gray, was shot entirely in Dublin and Wicklow.
It has contributed €33m to the economy in terms of jobs and services, with over 350 Irish cast and crew employed alongside stars Josh Hartnett, Eva Green and Timothy Dalton.
Logan and Dalton welcomed Minister for Arts, Heritage and the Gaeltacht Jimmy Deenihan and Bord Scannán na hÉireann/Irish Film Board Chairman Bill O'Herlihy to the show's set at Ardmore Studios in Co Wicklow on Thursday.
Logan, who also wrote Gladiator, The Aviator and Hugo, said during their tour: "Ireland has been a truly inspirational place to film Penny Dreadful. Not only does it have deeply talented crews, but the city's unspoiled architecture perfectly captures London at the turn of the last century.
"Also, the ghosts of Bram Stoker and Oscar Wilde walk these streets, which is pretty inspirational for us too."
Penny Dreadful will premiere in Ireland and the UK exclusively on Sky Atlantic in May and in the US on SHOWTIME on May 11.
For interviews, videos and more, visit the Penny Dreadful production blog at: http://blog.penny-dreadful.com/category/videos/.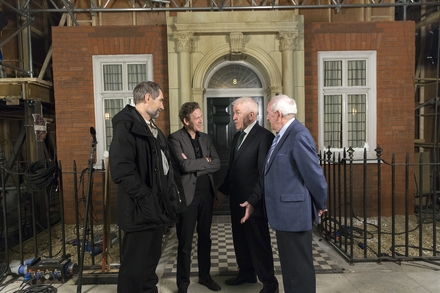 Minister Jimmy Deenihan said: "The Government is focused on job creation, and the film and television industry can deliver increased employment opportunities over the next number of years.
"Production activity has increased by 42% since 2011 as a result of real growth in the number of major international TV drama productions being produced in Ireland.
"Penny Dreadful, a project worth €33 million to the Irish economy, is an excellent example of this. By improving the incentives for producing film and television in Ireland, this Government is aiming to grow the sector even more.
"Throughout 2014, I will continue to promote Ireland as an attractive location for film and television production. We want to see more films and TV series being made here - and more people working in film - in the period ahead."