Nigella Lawson has appeared on the front cover of Vogue's April issue wearing minimal make-up.
The TV presenter and cook reclines on the front cover wearing a jade green lace Burberry Prorsum dress with embellishments at the waist.
The chef wears only the most minimal make-up on the cover, as the interview wanted to portray the real woman behind the headlines.
Lawson commented in the article: "I was terrified of being photographed without make-up and I hate having my looks talked up.
"It always makes me feel I'm going to be a disappointment in the flesh." 
Lawson also spoke about her career aspirations in the interview, saying she would like to branch out.
She explained: "I love what I do, but there are other parts of my brain that I haven't flexed in a professional way. I do sometimes think that I've let the more analytical part of my brain slump slightly.
"I do like writing about food, but there's so much that interests me... I've been working - in a cottage-industry way - on an App, which, if it works, could be deeply thrilling."
You can read the full interview and see the shoot in the April issue, out on March 10.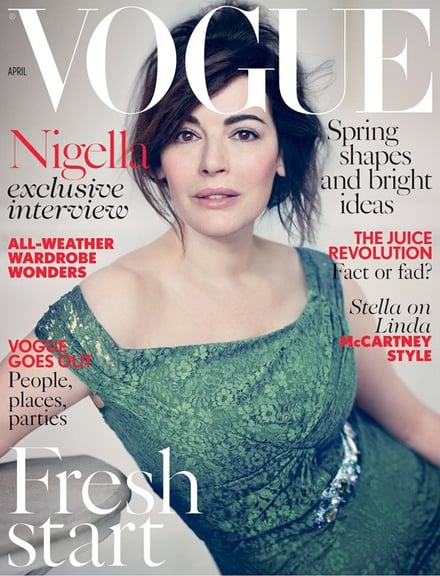 Nigella Lawson's Vogue cover for April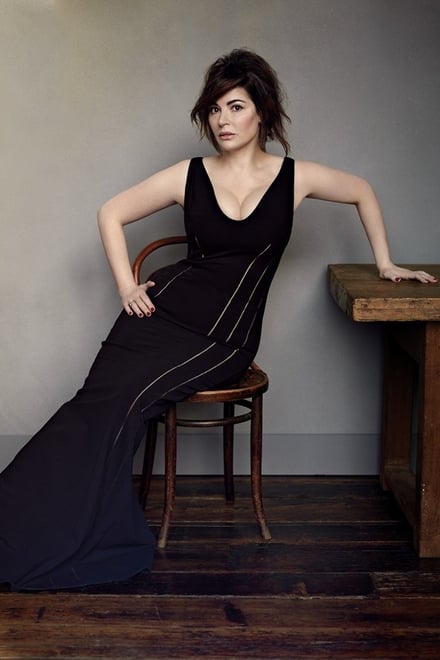 Image copyright: Nathaniel Goldberg/Vogue