MasterChef Ireland returns to RTÉ One tonight and you will now be able to get a double dose of the show each week with episodes being screened on Tuesday and Wednesday evenings at 8.30pm.
Judges Nick Munier and Dylan McGrath have also promised to turn the pressure to the max, pushing this year's contestants beyond their limits in the kitchen.
Speaking at the launch of show yesterday at Medley in Dublin, Nick and Dylan revealed to RTÉ Ten why they love being part of the most popular foodie shows in Irish TV.
Nick explained: "What I love most about the show is the time to spend together and the chance to showcase the job that we do. And we get to make people aware that this is a great industry to work in and be part of.
Dylan added: " Dylan: We do the show because we have a ball making it and also because it is giving restaurants the boost that they need.
"I think it is an incredible time for restaurants in Ireland. There is innovation on every corner. There are so many people delivering value for money at different levels, in different concepts and the customers of Dublin and of Ireland are benefitting. Ireland has become a real food nation."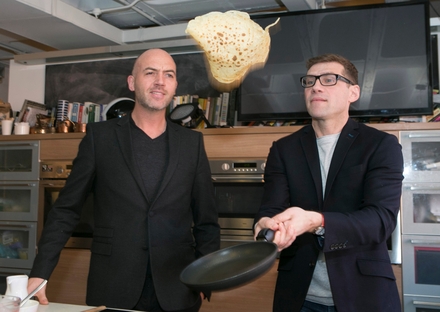 The format of this year's series has changed slighted. Over the next four weeks 24 amateur cooks will enter the MasterChef kitchen. The four heats will see six new cooks enter the kitchen on a Tuesday where they will have one hour to impress Nick and Dylan with their signature dish.
Having tasted the six dishes the judges will eliminate two cooks. The remaining four will return the next night where they will experience the pressure of a busy lunch service in a professional kitchen in some of Dublin's top restaurants.
They will then return to the MasterChef kitchen to cook one more time for Nick and Dylan and to fight for their place in the final ten. Their task will be a Key Ingredient Task. Nick and Dylan will give them an hour and a half to create one dish that showcases the key ingredient.
The competition heats up in week five as the final ten amateur cooks come together for the first time. Over the course of the following five weeks they face a series of intensive challenges in the MasterChef kitchen, master classes and some tough restaurant services.
MasterChef Ireland, Tuesdays & Wednesday, RTÉ One, 8.30pm