Conan O'Brien and YouTube founder Chad Hurley were honoured last night at the US-Ireland Alliance's 9th annual Oscar Wilde: Honouring the Irish in Film Pre-Academy Awards event.
The event began with a poignant tribute to Philip Seymour Hoffman. Lionsgate Vice Chairman Michael Burns in his opening speech said: "Oscar Wilde, tonight's patron saint, imagined death as a place to 'forget time, forgive life and to be at peace,' and we hope this is true for Phil." 
Joel McHale presented Conan with his award while YouTube personality Shay Carl presented to Hurley.
Conan joked that he is truly Irish unlike previous honourees: "J.J. Abrams, Russian Jew Paul Rudd" and then listed an imagined group of past honourees, including Idi Amin. 
Fresh from their debut appearance on Conan, Irish band The Strypes, wowed the crowd that included dozens in the music business.
L.A. Galaxy and Irish footballer Robbie Keane introduced The Strypes and invited them along to the LA Galaxy training session.
Honoree Chad Hurley used Google to diligently confirm his credentials for the award and relayed that his connection to Ireland dates back to the eighteenth century and thanked "my family and, especially one man…Daniel Hurley who first came to this country and in a way made this all possible."
Check out more pics from the event here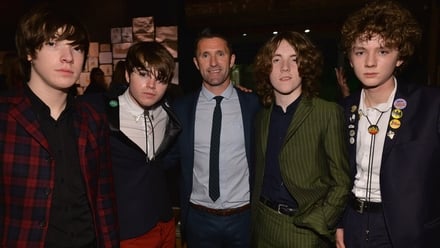 The Strypes and honouree band member Robbie Keane