Eurosong, the search for Ireland's entry to Eurovision 2014 will take place tonight on The Late Late Show.

There are five acts competing to sing and fly the flag for Ireland in Copenhagen, Denmark where the Eurovision will take place this year from Thursday May 8.

Last year Ryan Dolan qualified in the top ten after the semi-final of the competition however he was placed last in the final in Malmö, Sweden.

The Late Late Show presenter Ryan Tubridy told RTÉ TEN that Eurosong is all about "hope" this year: "We hope that we're going to win it, we hope that we're going to get back in the game and hopefully bring something home.

"People are saying that to get in the top ten would be an achievement and I'd love to see something like that happening. Actually I want to win it but top ten will do me for now."

He added: "The key thing is the mix, there's a variety of ages and experience, styles of music. There's Ballads, there's Pop, there's Rock 'n'Roll, so with all of that going on we're in business, vis-à-vis giving the choice to the people. Choice is good."
Patricia Roe will sing Don't Hold On, Eoghan Quigg will follow with The Movie Song, then Can-Linn featuring Kasey Smith will perform Heartbeat, Andrew Mann is next with Be Mine and finally Laura O'Neill will sing You Don't Remember Me.

The winning song will be voted for by the viewers of tonight's Late Late Show and a special Eurosong panel who will also be on the programme, so stay tuned to RTÉ One at 9.35pm and all will be revealed.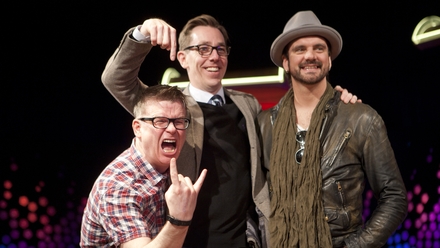 Cormac Battle, Ryan and Andrew Mann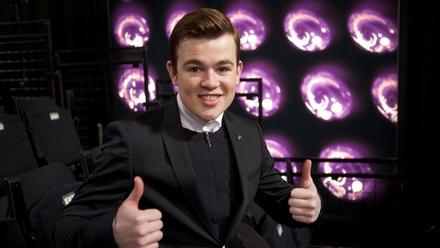 Eoghan Quigg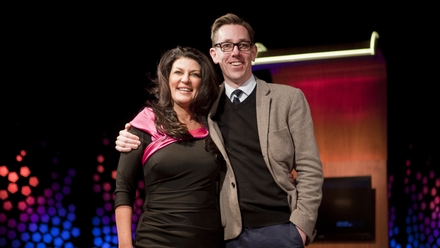 Patricia Roe and Ryan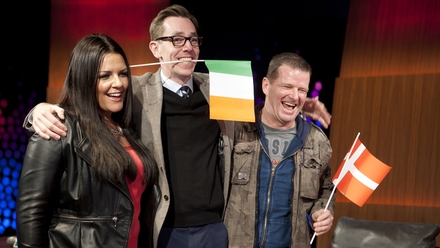 Laura O'Neill, Ryan and Billy McGuinness
Heartbeat singer and former Wonderland band member Kasey Smith told us: "I'm excited; I just can't wait to get up there. I am obviously nervous as well, which would be normal. I can't wait...to get going."

Former Dove singer and mentor to Can-Linn featuring Kasey, Hazel Kaneswaren added that she is enjoying the Eurosong experience: "For me it's a great experience because it's not doing what I did before. I was a singer and thank God I had that experience so I can mentor Kasey in that way.

"It's great for me being the mentor and managing all the stuff, I would never have known how to put a song on iTunes before, I would never known how to organise a Photo Call, organise a press tour and all that kind of stuff, so it's a new string to my bow so I'm happy."
While presenter of 2fm's Battle Axe and Andrew's mentor Cormac Battle has the support of his colleagues, he added: "...unfortunately I can't use that to my advantage which I would have liked to but I was told...many times 'You're not getting any special treatment!'"

He added that coverage on the station of the Eurosong entry songs has been equal and balanced: "People are behind me but in a quiet way, in a civilian way... If Andrew's being played then everyone is being played and vice versa.

"In some ways I'm glad it has been fair and nobody has does a runner with me because... I'd rather win this without any kind of nonsense at all."

Kerbdog singer Battle wrote the song Be Mine which Andrew Mann will perform and the Dublin singer said: "I love songs that have massive big anthemic passionate vocals and that's what Cormac wrote and when he asked me to do it last December, I was honoured."

Former X Factor contender Eoghan Quigg had high praise for Eurosong: "It's a great platform for someone to get themselves out there on a European level and to represent your country would be an absolute honour."

The 21-year-old Northern Ireland singer added: "I think on the night it comes down to the performance and to who the public are going to choose. The only thing I can say from The X Factor stuff, I'm going to take my experience from there and try to not get nervous and just try to give a great performance as I always try to do."

He added: "Back in The X Factor I was 16, I was very young, it was an amazing experience and it's given me an amazing platform but this time around I think I'm the right age, I'm more mature, I know a bit more about the industry and I'm hungry for it so I'm glad to be here."

Quigg, who will sing Karl Broderick's The Movie Song added: "[Eurovision] is Gospel in our house. My granny's the biggest fan and once she heard I was going into the Eurosong she was absolutely over the moon, my family as well."

Mentor Mark Murphy said: "Any 15-year-old told 'You've got it' by Simon Cowell has to have talent and I believe my act Eoghan Quigg has all the qualities needed to represent Ireland at the highest level."

The song, You Don't Remember Me, will be sung by Laura O'Neill who shared her pre-Eurosong feelings: "I'm an underdog because no one knows who I am but if anything it gives me the strongest position because I've nothing to lose.
"I don't have an ego, I'm not trying to protect something that I've already done, I'm going out with a fresh start. It's a blank canvas."

The 25-year-old Dublin singer feels well prepared and has had help from a well-known Irish singer: "Christy [Dignam, lead singer with Aslan] is helping me out a massive amount. His style of singing is just outrageous. I've had lessons all over the world and this is by far the best one I've ever had."
Her mentor and Christy's band mate Billy McGuinness added: "Joe Jewell the guitarist from Aslan produced the song, Don Mescall who wrote Too Late for Hallelujah and Lucie Silvas who has written for Liberty X, Girls Aloud, Nadine Coyle two brilliant songwriters [wrote the song]. Alan [Downey] and Rod [O'Brien] from Aslan are in the band."

However McGuinness does have some views on how he believes Eurosong could be improved: "We need to lose the text vote and go back to an anonymous panel; it has served us well in the past. Whenever we won, whenever Ireland won, it was not text vote."
Wicklow native Patricia Roe spoke about her entry Don't Hold On: "The Eurovision Song Contest is spectacular, I look forward to it every year. I have always wanted to represent my country in it, hence three attempts to get there! As a proud Irish woman - that would be such a privilege."

Her mentor and sister Valerie Roe added: "Don't Hold On is a compelling and passionate song that makes my heart beat faster but also break a little bit at the same time! I want this opportunity so much for Trisha. She has been so close so many times. I think this will be her chance to finally shine and for everyone to experience her extraordinary talent."