Nadine Coyle has welcomed her first child, a baby girl.
The Girls Aloud singer confirmed the happy news on Twitter yesterday (February 10).
She wrote: "I am overjoyed to let you know our little girl is here. She is amazing! I love being a mammy & will fill you all in soon. Love Nadine Xx."
Coyle did not reveal exactly when she and boyfriend Jason Bell welcomed the arrival of their daughter or the name of their firstborn child.
Former bandmate Cheryl Cole tweeted her congratulations, posting: "It is OFFICIAL!! There is a baby Aloud!!!!!! Congratulations @nadinecoylenow & Jason so amazing!!!"
Kimberley Walsh also congratulated Coyle, writing: "Congratulations to you both!!! So happy she is here safe and sound. Can't believe you're a mummy."
Coyle announced that she was pregnant last August, later confirming that the father was ex-fiancé Bell.
The star revealed that she had reconciled with the former American football player, who she was previously engaged to before they split in 2011.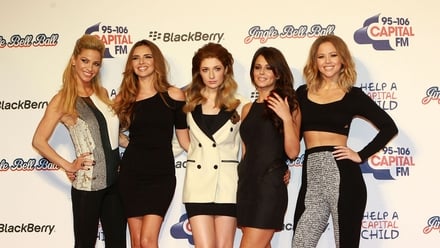 Girls Aloud
I am overjoyed to let you know our little girl is here. She is amazing! I love being a mammy & will fill you all in soon. Love Nadine Xx

— Nadine Coyle (@NadineCoyleNow) February 10, 2014