With her new Tinker Bell adventure The Pirate Fairy opening in Irish cinemas on Friday February 14, Mad Men star Christina Hendricks discusses the Disney family film.
What can you tell us about your character in The Pirate Fairy?
Christina Hendricks: I play Zarina, who is the pirate fairy in the movie. Zarina is a dust-keeper fairy and she's very science-minded. She's very curious and she's very smart.
The story is about the introduction of this new fairy, Zarina, who decides to start experimenting with Pixie Dust and wonders what else there is for her out in the world. She feels misunderstood and she gets herself into a little bit of trouble, so she leaves Pixie Hollow. She heads off to find a group of people who will accept her.
Zarina ends up with some pirates and she becomes the captain of a pirate ship - but luckily, her fairy friends come to the rescue. The other fairies admire Zarina, but they also know that she needs help.
How much fun do you have playing Zarina?
I love playing Zarina because she is so special. She's got a real spark to her, and it's really fun for me to be able to bring out the fun side and the playful side of my personality for the role. Zarina is incredibly playful and I think everyone understands what it feels like to be misunderstood. Growing up, I could certainly relate to that, so it's fun to see Zarina overcome her issues.
What went through your mind when you discovered that fashion designer Christian Siriano helped create Zarina's costume in The Pirate Fairy?
When I found out that Christian Siriano was designing Zarina's costume, I thought, 'How perfect!' I'm a huge Christian fan. In fact, he has designed a lot of the gowns I've worn on the red carpet. Christian is extraordinarily talented, enthusiastic, clever and creative.
Christian designs things with a lot of strength and a lot a feminine flare - and that's what Zarina needed to be. She needed to be spunky, crafty and strong - but she's also a fairy, so she's feminine and girlish. He was able to incorporate all those things into one little outfit. The look that Christian gave little Zarina is absolutely beautiful. It's adorable.
How did you come up with the voice of Zarina?
I created the voice of Zarina just from reading the script. It's so beautifully written that this character just pops off the page. You look at her image and you think about this fairy world - and you just imagine that you're in that space. My voice becomes 'sing-songy' and more girlish - and maybe younger. It's everything you imagine a fairy would sound like.
What can you tell us about your experience in the recording booth?
When you're doing voice work, you're in a bubble where you just think about the story and the words. They record you on video while you're doing the voice work, so they capture how your face is moving and the gestures you make. And then, when you finally watch the finished movie, there's little Zarina doing exactly what you did in that room.
She looks a lot like me and it's really fun to think that someone could capture that through animation. It's unbelievable how lifelike it is and how realistic it is to me. One thing I've learned from this experience is what a strong and dramatic tool your voice can be. It really is storytelling in a very, very specific way - and it's very, very, very powerful. It's been a real lesson for me. It's been really exciting.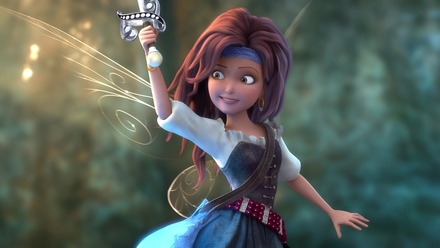 Hendricks as Zarina
What do you think of the look of the movie?
The look of the film is so beautiful. It's been amazing to watch the progression from the original storyboards to the finished film. These animators are brilliant. To see the original sketches slowly grow into incredibly realistic-looking images, as well as this beautiful colourful world around them is astounding.
What does it mean to you to work on this film?
It is so exciting to get a phone call saying you're going to be working on a Disney film. And then, to find out it's a Tinker Bell movie is every girl's dream. I also love the fact that the movie is about the introduction of a new fairy that we get to create from scratch. It's been a dream come true. It's been really, really fun.
It's an honour to be part of the Disney legacy. As an actor, you always hope that you're leaving a mark or that something has been learned from watching your movie. Not only are you entertained, but there are lessons tucked into these wonderful stories with these wonderful characters.
One of my favourite messages about The Pirate Fairy is that the story is about appreciating your own talents. It's about looking inside yourself and saying, 'It's okay to ask questions'. It's okay to be inquisitive and creative, but it's also important to consider the people around you. Consider the results. Be responsible, but then shine. Take all of those things that you've learned and become the best you can be at what your talent is.