Matthew McConaughey and Woody Harrelson are to star in brand new HBO drama, True Detective.
The eight-episode miniseries follows detectives Rust Cohle (McConaughey) and Martin Hart (Woody Harrelson) who become entangled while on a 17-year search for a serial killer in Louisiana. Michelle Monaghan co-stars as Martin's wife, Maggie.
Speaking about working with each other at a recent press conference, the stars where in full bromance mode. "Woody and I, part of why we're friends is that we get on each other's frequencies," said McConaughey of his co-star.
While Harrelson gushed: "I love Matthew, my brother, a phenomenal amazing person.
"I can't imagine anyone playing that part better."
However when the subject of a second series was broached McConaughey was quick to knock the idea on the head. He said: "It's contained, that's it."
True Detective premieres on HBO in the States on Jan 12. There is no date announced yet for it to screen here.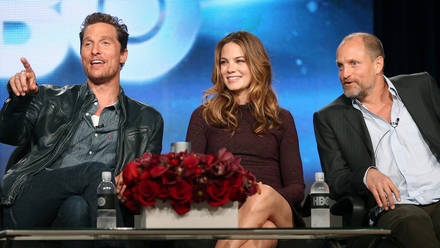 Matthew McConaughey, Michelle Monaghan and Woody Harrelson
Check out the trailer for True Detective below:
RTÉ is not responsible for content of external websites