Long-running medical drama Grey's Anatomy returns to Sky Living, the highly-acclaimed ITV whodunit Broadchurch gets a run on TV3 and US sci-fi reboot The Tomorrow People arrives on E4.
Grey's Anatomy, 10.00pm, Sky Living
Season ten – no less – of Shonda Rhymes' medical drama, starring Ellen Pompeo, Patrick Dempsey, Chandra Wilson and co. The team struggles to cope in the aftermath of the storm that was last season's cliff-hanger, particularly when a giant mudslide injures people in a hillside community as well as a group of first responders. Meanwhile, a stressed and stretched Bailey asks Shane to find the MIA Richard, unaware that the former chief is unconscious in the flooded hospital basement.
The Tomorrow People, 9.00pm, E4
Anyone who remembers the 1970s should be familiar with the inspiration behind this American remake of a British TV show of the same name. The Tomorrow People are humans who, as a result of genetic evolution, develop special powers (telepathy, teleportation, and telekinesis). They are hunted by Ultra, an organisation that uses Tomorrow People to hunt down others. Peyton List, from Mad Men and FlashForward, is the most familiar name in what's a young cast.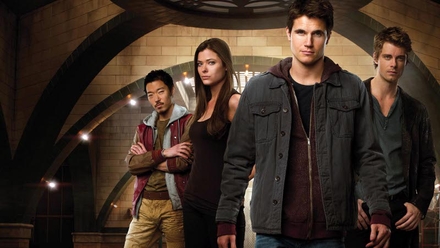 Broadchurch, 9.00pm, TV3
If you missed this first time around on UTV, you're in for a treat. David Tennant stars as out-of-town DI Alec Hardy, who investigates the mysterious death of an 11-year-old boy in an idyllic seaside community, aided by local DS Ellie Miller (Olivia Colman), who has her work cut out dealing with her new boss. Meanwhile, the sadness of losing their child consumes the parents and other residents of Broadchurch as they face the ensuing media frenzy.