With the new, noir-themed Rory Gallagher box set Kickback City featuring on many a Christmas want list (and in many a stocking), Harry Guerin catches up with the project's co-ordinator, Rory's brother Donal.
He talks about bringing together the crime fiction-flavoured studio and live tracks; the specially written, Rory-inspired short story by author Ian Rankin; the illustrations by Timothy Truman and the audio book of the whodunit, which is narrated by Aidan Quinn.
Harry Guerin: How long has the idea for Kickback City been kicking around?
Donal Gallagher: In truth, it's about six/seven years. But it was on a backburner and then about two-and-a-half years ago I picked up on it again. By the time all the elements got put together it took two years or so. Because one [part] is obviously to give Ian Rankin the time to write the story, and then you could only do the drawings after you had the story. So, it was juggling a lot of things, plus refining all the drawings that we needed and what was required.
It's beautifully put together – a real labour of love.
I think we initially started out with the idea that there would be less graphics, or not so many graphics: it was just going to be an album cover. But then Ian's story was so involved I felt it had to be illustrated more. Not everyone is the greatest reader, and I just felt it would be a shame if they didn't get into the story somehow. I read the story when I first got it three times and didn't get the plot to be quite honest! Out of that grew the notion to put in the audio [spoken word] disc as well.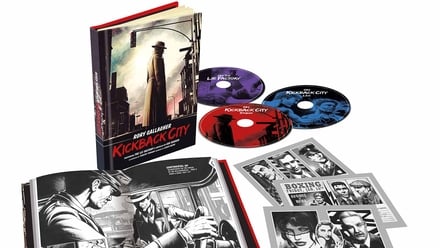 So how did you decide that Ian Rankin was the man to write a short story based on Rory's music and lyrics?
I was in a studio and somebody alerted me to the fact that they were reading this Ian Rankin book that mentioned Rory. So I went out and got the book; it was called A Question of Blood. While reading that there was a whole terrific passage about John Rebus, Ian's detective, being involved in a court case where the decision had gone against him. So he leaves the court very depressed, gets in his car and rummages around the glove compartment for a Rory Gallagher cassette he knows he carries called Deuce. He's about to put it on to listen to a track called The Devil Made Me Do It but then decides that would depress him even more because the court evidence was that the Devil made the guy do it – and he got away with it!
And to get from there to getting him onboard?
It was a very interesting piece and I thought from that writing, 'God, Ian must really get that Rory loved crime novels'. It was so intermeshed. So I wrote a thank you letter to Ian via his publisher, not particularly expecting a response. And then Ian came back to me directly and said, 'I'm delighted to hear from you. I didn't realise your brother was a big crime [fiction] fan. Please tell me more and what books he read and what were the other tracks you're referring to that had inspired Rory's writing in [on] crime. So I burnt him a disc of the tracks and when I sent that off to him I said, 'PS, you never know: one day we might do an album on Rory's crime tracks. Would you be up for writing a few sleeve notes?' Ian responded and said, 'I'm your man'.
That was years ago, then?
That was on the backburner for a few years and then the idea came up again of doing a crime album up at [Rory's label] Sony. And I said, 'Well I've actually been in touch with Ian Rankin'. And the [record company] guy said, 'You're kidding me?! If you could get him to write the sleeve notes that would be fantastic'. My son Dan, who was in the meeting, said, 'Do you think you could get him to write something a little bit more than sleeve notes?'
It's amazing how an idea can gather momentum.
I was headed to Scotland and I dropped Ian a note and we met for a pint and I ran the idea past him. I had now about 40 tracks that I felt were kind of jigsaw puzzle pieces of a crime story. So he could play around with the puzzle and see what he could make of it and if he could thread the songs through a story. He was up for that.
Was it hard to pick the tracks?
In a sense, the tracks were dictated to a degree by Ian Rankin. It was nearly 40 [he had to choose from], and then I realised afterwards what a cheek I had – I sent him up 40 sets of lyrics as well! I must've blocked his email address because he came back and he said, 'I'm a pen and paper man myself'! He filtered through the various tracks and lyrics and identified the characters in the songs. To keep the cohesion we had to largely follow who he had written about or made a reference to – Sinner Boy, for instance.
The box set and story are illustrated in hardboiled style by Timothy Truman, who's done a lot of comics and worked with The Grateful Dead. How did he come into the frame?
Parallel to all this going on we'd come across a comic in America called Grimjack. In an episode of Grimjack, Grimjack is protecting his guitarist buddy from an assassination attempt. The guitarist buddy is Rory - the character is called Jim Lanyon but the actual drawings were Rory all the way through. I contacted Timothy Truman and he said he was a huge fan of Rory and that [he] was the model in the story. So I said, 'Look, I'm hoping to get this crime story done. If it was successful would you be interested in doing some graphics for us to illustrate the book side of it?' And he said yes he was, so we were off and running.
So where did Aidan Quinn come in as the narrator for the audio version of the story?
By the end of it all we had so much material, but I felt it needed something to pull it together, particularly for the non-reader. I'd been listening to audio books and I thought, 'If we could get somebody who would have the right accent...' It would be getting someone that Ian Rankin would be happy with as well. It was Ian's story, and it's like somebody doing a cover version of a song: you have to get it right and add something new to it. There were a few names we looked at but Aidan we had a contact with and Aidan was somebody I had met in Midleton some years earlier. I'm good friends with his brother Declan. So we went to Aidan and he agreed. Dan, my son went over to record him in New York and he did the reading. Ian Rankin is blown away by it.
If ever a project has proven the maxim 'Think big' it's this one.
It's funny how the whole project can spin-off in so many different ways. I'd always admired the aspect of an artist being influenced by another artist, say when Don McLean wrote Vincent. The fact that the artist inspired the songwriter to write a song, y'know? I love that 'artists influencing artists' scenario. What's been great with this project is that there is a background film to it, the making of it, which is up on YouTube. Some guys at Sony, some of the younger guys who work in the video department, they heard about the project and they came along and did a video for it, a graphic video. Within the camp there's all different people finding different ways to roll the snowball into a bigger one!
Well, after all this it sounds like you could embark on a new career as a movie producer – you'll have to bring Kickback City to the big screen to finish the job.
And we'll have to get Aidan Quinn for it too!

Could you see yourself doing another Rory release united by a theme? There are still a lot of tracks like, say, Last of the Independents you could use.
Honestly, it would be nice to think you could do something. But at the same time the way this has fallen together and come together it's nice that it's unique and stands alone. I'm sure at the record company they'll be saying, 'Gather all the love songs and we'll do a Mills & Boon'!
As keeper of the flame, what are your plans for next year?
Nothing is set in [stone]. This project has gone back and gone back and gone back... We had stuff perhaps that we were looking to release next year – you'll have the 40th anniversary of [live album] Irish Tour. There's a lot of stuff from that whole tour, all the live sessions, if you want to do a commemorative-style thing. We're so late in this year [with Kickback City] that I've resisted any talk of what we'll do next year with the record company. The terrible thing is once you start saying what the next project is to them they forget about the one they should be looking at! It's like if you have two footballs on the pitch – you get no goals!
Kickback City is out now on Sony Music.