Ben Stiller cemented his hand and footprints into Hollywood history on The Hollywood Walk of Fame yesterday.
The 48-year-old comedy star cast his prints outside the iconic Chinese Theatre on Hollywood Boulevard. He joins screen legends including Marilyn Monroe, Clint Eastwood and Rita Hayworth who have previously made their mark on the area.
Speaking ahead of casting his prints, he told BANG Showbiz: ''I've always loved the history of Hollywood and the history of the movies. It's very, very meaningful to me, and to be in any way a part of it is a dream come true.
''I'm humbled, touched and very proud to know that wherever I go, long after I'm dead, my footprints will be here in Hollywood, being stood on by a fake Shrek posing for tourists for a dollar.''
The Zoolander star was introduced by his long-term friend Tom Cruise.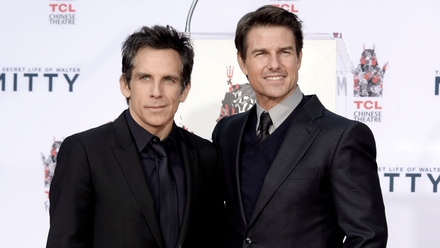 Ben Stiller and Tom Cruise
Cruise said: ''It's a crowning accomplishment for Ben and I think it's so appropriate today that he is here being honoured at this historical event. I'm very honoured to be here to announce him and give it to him. A brilliant artist and my dear friend, Ben Stiller.''
Stiller, who was accompanied at the ceremony by his wife, Christine Taylor, 42, and their children, Ella, 11, and Quin, eight, also thanked agents, managers and casting directors who have helped him over the years, as well as his friends and family.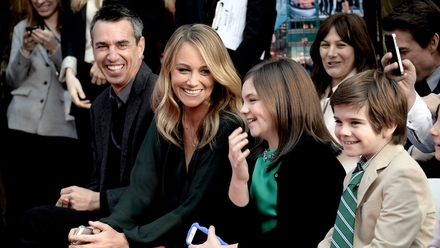 Agent Nick Stevens sat with Stiller's wife Christine Taylor and their children Ella Stiller and Quinlin Stiller
He joked to his kids: ''Hopefully this proves to you that all the years of not being there for school conferences, oboe recitals and birthdays was worth it. Here we are together on Hollywood Boulevard watching me on the ground, putting my hands in wet cement.
''And kids, I really hope you're coming to the luncheon afterwards, it would be fun to catch up.''