Following last week's Xbox One launch, Sony hit back with the PS4. John Walshe puts it through its paces.
First impression? It's like Knight Rider is living in my house. Sleek and sexy, the new PS4 unit looks the business. Much smaller than its predecessor, the unit looks sophisticated and ultra-modern, with diagonal edges and futuristic strip lighting.
The next thing the PS4 has going for it is that it's incredibly easy to set up, even for techophobes like yours truly, who have trouble with digital watches, let alone next gen. consoles. Once you get set up, the home screen has been simplified greatly from the PS3, which sometimes felt like it was designed for developers rather than end users. It's also really simple to connect to Facebook and you can organise your settings so your games, trophies etc will automatically upload to the social networking site, or if you'd rather the world not know how terrible you are at driving games, you can choose to keep that information secret.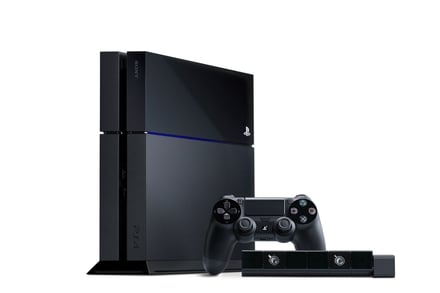 The controller is brand new, featuring a touchpad front and centre and a light bar facing your TV, as well as the more traditional PlayStation D-pad, twin joysticks and the usual circle, triangle, x and square buttons, along with the four shoulder pads. Instead of Start, however, we now have an Options button, which pretty much does the same thing as ye olde Start. There's a new Share button, on the left of the touch pad, which allows you to take screenshots and videos and upload them to the aforementioned Facebook or Twitter pretty much instantaneously and easily.
The techie stuff reveals that the system supports 1080p HD resolution, sports superb PC architecture, including an enhanced Graphics Processing Unit and 8GB of unified system memory, all of which means that games will look and sound miles better than they did on the good ship PS3.
Those of you with a PS Vita will love the connectivity, which pretty much allows you to play any PS4 title on your Vita via WiFi, thus allowing your better half to watch Strictly Come Dancing while you shoot some bad guys in the bathroom, if you were so inclined.... ahem.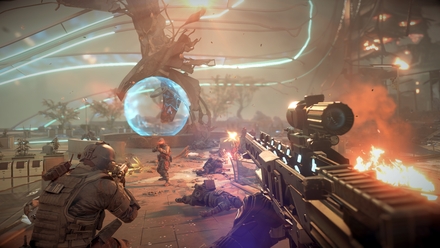 Killzone.
Even if you don't own a Vita, the PlayStation app will allow your PS4 to connect to tablets and smartphones (both iOS and Android), allowing them to become a second screen, which could, for example, display a map during game play or purchase a game from the PlayStation store remotely and have it download to your PS4's 500GB hard-drive, ready for you when you get home.
Other apps available at launch include cloud-based digital music streaming service, Music Unlimited, an optimised version of games site IGN, music video streaming service, VidZone, and Netflix, with more to be added all the time – unfortunately the BBC's iPlayer and Sports are UK-only apps.
So what else is new? Well, there's a wonderful part of the new PS4 home screen called The Playroom, which is essentially a showcase for some of the console's more innovative features – although you will need a PlayStation camera (which doesn't come as standard) to utilise them. Slapping a virtual robot upside the head or making mini AR Bots dance inside your controller is gimmicky, certainly, but it's also just a little big magical and a whole load of fun – as is kicking said AR bots around your living room.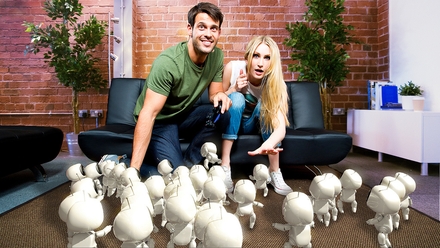 The Playroom.
The other big difference between the PS4 and its immediate predecessor is that rather than try to be all things to all men and women at launch, PlayStation has returned to its roots, declaring that this is for the players, putting games and gamers at the heart of everything it does. But does it succeed? Yes, and then some, if the launch line-up is anything to go by.

Marvel's Super Heroes.
The big first party titles include fun action platformer, Knack, and tense FPS Killzone Shadow Fall, which feels like the best game in the series to date after only an hour or two of play, while there are a host of big third party games available from launch, including the wonderful Assassin's Creed IV: Black Flag, as well as FIFA 14, the beautiful game rarely looking so lovely, and Need For Speed Rivals, the latest instalment in EA's long-running arcade racer. Other launch highlights include Lego Marvel Super Heroes, which pits everyone's favourite caped crusaders against Doctor Doom and his minions in a typically wacky adventure, and Call Of Duty: Ghosts, in which you get to play some missions as a trained Alsatian attack dog in an imaginary future war (no, I'm not kidding).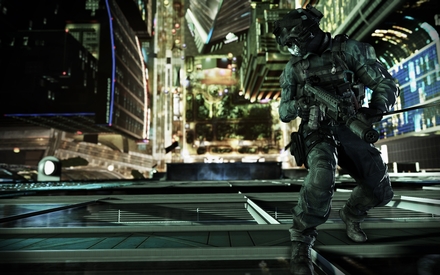 Call of Duty: Ghosts.
There are also some downloadable titles on the PSN, including addictive arcade shooter, Resogun, cult puzzle title, Escape Plan (which will be familiar to Vita players), WWII-based MMO, War Thunder, and 1920s style film noir adventure, Contrast.
With games like Drive Club, Infamous: Second Son and, particularly, UbiSoft's Watchdogs already lined up for 2014, the future looks very bright indeed for Sony's new console.
John Walshe