Harry Guerin talks to Claire Dix, the director of the award-winning Irish documentary Broken Song.
Winner of the Michael Dwyer Discovery Award and the Audience Award at this year's Jameson Dublin International Film Festival, Broken Song is a great reminder that when it comes to cinema it's always best to leave your preconceptions in the foyer. You don't have to know about, or indeed even like, Irish hip-hop to enjoy this film. In fact, you'll probably get more out of Claire Dix's documentary if you're a complete novice.
Filmed in Ballymun and Finglas, Broken Song takes us into the worlds of three performers: Costello, GI and Willa Lee. Initial fears that Dix's gorgeous quayside opening sequence would be followed by a blizzard of hip-hop bravado and machismo prove unfounded: Broken Song turns out to be a surprisingly moving and uplifting snapshot of life on the fringes of a city, an economy and an industry.
Harry Guerin: What was the magnet that drew you to this story - were you a fan of hip-hop?
Claire Dix: I didn't know anything about the Irish hip-hop scene before I met GI and Costello. I was working with Dublin Community Television, DCTV, on a series about community arts. I met Dean Scurry that way - Dean is their kind of manager in the film. He was working in the axis centre in Ballymun and we asked him what projects he was working on and he said: 'There's a lot of hip-hop going on out here'.
So introductions were made to GI and Costello...
I met them in a room in the resource centre in Ballymun and they rapped unaccompanied - they'd no beats with them or anything. There was just something about the way they rapped and what they were saying, it was just something I hadn't really heard before. What was interesting for me was that it felt very genuine. They were rapping in their own accents, they were talking about what was going on around them and there was very little resemblance to the kind of commercial, mainstream hip-hop that I would have known about. I said to Dean: 'I think there's something here'.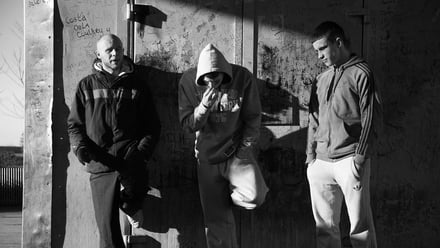 How long from that first meeting to the finished film?
We met them in 2010 and it was the end of 2011 before we got funded, so 2012 before we started filming. We would've been meeting up with them every so often to say: 'Well what kind of film would you be interested in getting involved in?'. Together we shaped it.
Was it hard to earn GI, Costello and Willa's trust?
I think what really helped us is that I would have worked with Dean a couple of times on that programme for DCTV and then we did another programme about comedy in the new communities around Dublin. Because he's their manager, and they've known him for so long, they kind of said: 'Well, look, if Dean thinks these guys are okay...'.
That's obvious from how natural and open they are on screen.
They were very trusting and I'm very grateful for that leap of faith that they took. I know they're happy with the film; they've said they're happy with it. From very early on they knew the angle we were coming from and I suppose because it took a while to get it funded they reckoned: 'Ok, these people are kind of serious because they are sticking with it'.
Broken Song is 65 minutes long. Would you have liked for the film to be longer, or were you happy that you had everything in?
We filmed a lot more stuff that didn't make it in, so I think we said what we wanted to say. I didn't keep a tab on how many hours [we shot], but we were filming on and off from March to November in 2012. Because it's observational, you have to film an awful lot before you can construct your narrative. We didn't really want to have a voice going: 'Now, this is what you're looking at now...'. We really did want it to kind of flow and let the audience feel like they're a part of the world.
You've been a part of that world - what were the biggest eye-openers for you in making the movie or the big lessons you learned?
It was learning about this whole scene that I really knew nothing about. What was amazing was walking around some areas of Finglas and Ballymun and all these young fellas just coming up to the two lads [GI and Costello] [and saying]: 'Oh do you want to listen to what I've been writing?'. The amount of time that Costello and GI had [for them] - a big thing was that they took so much time out of their day to work with all the young fellas.
I suppose another thing is how important it is to be able to express yourself. It's so obvious in a way, but it's just not that obvious for some young kids in the city. To be able to put [words] down on paper and to speak up and to say what you're feeling is not actually that easy for a lot of people. And the difference that it [hip-hop] was making and is making in the lives of a lot of these kids - that was a bit of an eye-opener.
Broken Song is at the IFI now and screens at axis Ballymun on November 27.