Oscar winner Jennifer Lawrence braved the bad weather in London last night for the premiere of The Hunger Games: Catching Fire.
Lawrence returns to the role of Katniss Everdeen in the second film in the series adapted from Suzanne Collins's hugely successful novels.
Also walking the red carpet last night were co-stars Josh Hutcherson who plays Peeta Mellark and Liam Hemsworth (Gale Hawthorne).
Speaking about reprising her role she said "It's really exciting, we don't see a lot of females in positions like this hero part that Katniss is."
She said of being a role model: "I don't think you make a decision to be a role model. I didn't set out to be one at all. It's something that just happens when you're in the spotlight you just have to look at what you want the younger generation to hear.
"I think Katniss is a very good role model, she's strong and not afraid to stand up for what's right."
The actress wore a backless dress from Christian Dior for the event.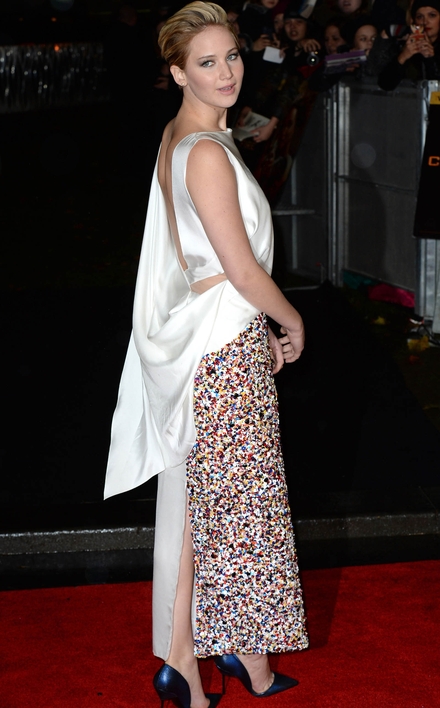 In the second film Katniss and Peeta's lives are again in danger after their success at The Hunger Games makes them targets of the rulers of the Capital with rebellion in the districts of Panem.
Also walking the red carpet last night were Elizabeth Banks, Sam Claflin, Jena Malone, Jeffrey Wright, Willow Shields, Stanley Tucci, Donald Sutherland and director Francis Lawrence.
The film opens in cinemas here next weekend.