Joel and Ethan Coen have been honoured with France's top cultural prize.
The Coen brothers join the ranks of Bono and Bruce Willis as Commanders of the Order of Arts and Letters, according to The Hollywood Reporter.
The award is given by the French government to people who "significantly contributed to the enrichment of the French cultural inheritance."
Joel Coen said during the ceremony on Wednesday (October 16): "Sometimes life plays jokes on you. Some of them are very unfortunate. Some of them are very fortunate. This is one of the most fortunate jokes I think that life has played on us. We're very, very grateful for it."
Despite being American filmmakers, the Coen brothers are celebrated in France, with eight of their films premièring at the Cannes Film Festival.
In 1991, their movie Barton Fink took home the Palme d'Or.
Their latest film, Inside Llewyn Davis, which was the Grand Prix winner at this year's Cannes, will hit cinemas on January 31.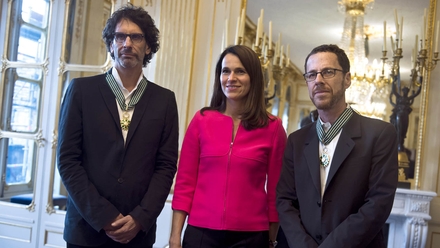 US directors Joel and Ethan Coen pose for photographers with French Minister for Culture and Communication, Aurelie Filippetti