In 2006 a Westmeath taxi driver looked in the rearview mirror only to see Michael Jackson starring back at him and a new documentary explains how the fare lasted six months.
Michael Jackson's Taxi Driver is the name of the new documentary on RTÉ Radio 1 which tells Ray O'Hara's amazing story.
"The first few days I was in shock," says O'Hara, "I kept looking in the mirror to be sure the guy in the back really was Michael Jackson."
Speaking to RTÉ TEN, the documentary producer and narrator, Ken Sweeney explained how the programme came about: "I've been a showbiz journalist for about ten years in Ireland working for a lot of papers from The Herald to The Sunday Tribune to The Irish Independent.
"One of the stories that I came across throughout my career was Michael Jackson's visit here in 2006. What sparked this documentary, Michael Jackson's Irish Driver which is on Saturday on RTÉ Radio 1, was the story that Paddy Dunning, the owner of Grouse Lodge [where Jackson and his family stayed recording music and holidaying] told me.
"He describes driving in 2006 up to Dublin with Michael Jackson in the car and they were going through Dublin and they were just about to run out of petrol.
"Michael Jackson was just about to end up pushing a car through Crumlin. The biggest superstar in the planet, who sold 750 million albums, he was going to be pushing a car through Crumlin. I heard that and said I gotta hear more about this.
"Through the co-operation of Paddy, I was introduced to Ray O'Hara, a Dublin born, Westmeath based Taxi driver and he was appointed Michael Jackson's personal driver for the six months.
Listen to Michael Jackson's Taxi Driver on RTÉ Radio 1 tomorrow at 2pm and click here for further information or to listen back to the programme.
Sweeney added: "Ray could not believe his luck when he was told he was going to be Jackson's driver and to also drive his family. Our documentary is a story about two men and how they went from being a celebrity and a driver to becoming friends.
"The most incredible thing about it was that Michael Jackson spent his whole life being pursued by the media but he was able to come to Ireland in 2006 and live as a typical dad, he went to bowling alleys and art galleries and shops, behaving as any dad would."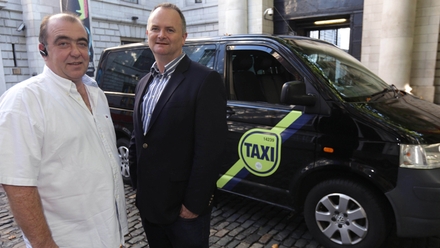 Ray O'Hara with Ken Sweeney

He added: "That was what he absolutely loved about Ireland. There's a story at the start of the documentary where Ray brought Michael to a bowling alley in Westmeath and Michael was in there bowling, the hat, the whole thing that you'd expect from Michael Jackson.
"A guy came in to deliver pizza and he looked over and...he said to the woman [working there]: 'Is that Michael Jackson over there?' And the woman said to him: 'No, no that's a guy from Tullamore who thinks he's Michael Jackson, we just let him go on about his business, we never question him.'
"And the delivery man said: 'Ah yeah, of course. Sure what would Michael Jackson by doing in a bowling alley in Tullamore!' So there's lots of little stories like that in the documentary.
"Even when the world's media began to descend on Westmeath, local farmers were giving them wrong directions becuase they knew he [Jackson] was having a good time with his family and they just wanted that peace to be maintained.
"He was actually thinking of moving to Ireland, Ray was going to be his personal driver but unfortunatly events went a different way so all we have is a snapshot of his life in Ireland."