Gravity producer David Heyman has spoken about working with director Alfonso Cuaron.
Heyman produced the Harry Potter film series and worked with Cuaron on The Prisoner of Azkaban having asked the director if he would come on board.
For Gravity it was the other way around with Cuaron bringing Heyman in.
The producer told Deadline, "When he asked me to do it I jumped – there was not a moment of hesitation.
"One, it's a lovely compliment that he asked, and as a producer it's what we dream about. I knew it was going to be challenging.
"We finished the film early this year and we hadn't done the mix. He looked at the film and he said 'Damn'. He had an idea which was to take the spacecraft and flip it because it was coming in top-up.
"You're in outer space, there's not up and down, so if you flip its fine but it took 10 weeks. One shot, two minutes. But he's always pushing and never settling so I knew it was going to be extraordinary, but to actually now be here and feel the response is pretty great."
Gravity was very well received at Venice, Toronto and Telluride film festivals.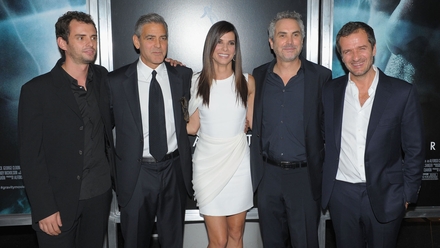 Heyman with stars Sandra Bullock and George Clooney, director Alfonso Cuaron and writer Jonas Cuaron at Gravity's New York premiere.
Heyman identified the risk involved with a film like it but commended Warner Bros. on their faith in Cuaron.
"I think Warners, to give them credit, took a big leap in making this film. You know a female-driven action movie, not inexpensive, with one character alone for most of the time. But they believe in the filmmaker. Then they poured money into it."