The highly-addictive soap-with-stetsons Nashville continues to impress on TG4, Ardal O'Hanlon's back on the box in London Irish, a new comedy on Channel 4, while UTV has a documentary about the former footballer Paul Gascoigne, who's spent recent years battling alcoholism and addiction.
Nashville, 9.05pm, TG4
Easily one of the best new shows to cross the Atlantic in recent years, Nashville is a superior soap with a fantastic cast – led by Connie Britton (Friday Night Lights) and Hayden Panettiere (Heroes), who are both outstanding in this countrified bitchfest about a fading country star and her much younger rival. This week, Gunnar (Sam Palladio) and the rather annoying Scarlett (Clare Bowen) land a publishing deal while Juliette (Panettiere) goes on a chat show in an attempt at damage limitation.
Being Paul Gascoigne, 9.00pm, UTV
From a schoolboy with an extraordinary talent in a working class district of Newcastle, Paul Gascoigne went on to become a global football superstar. But since his iconic days making headlines from London to Rome and beyond, Gazza has been gracing the front pages for entirely more tragic reasons, namely his 15-year battle with alcoholism and addiction. Over a three-month period, he has given cameras unprecedented access to his private life for this one-off documentary.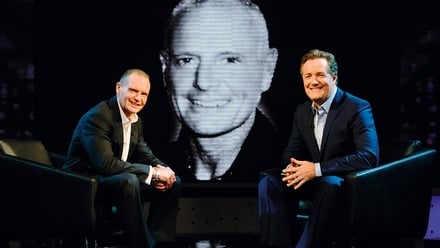 London Irish, 10.00pm, Channel 4
Ardal O'Hanlon stars in this new six-part comedy about four Irish twenty-somethings living in London. O'Hanlon plays Da to Conor (Kerr Logan) and his sister Bronagh (Sinead Keenan), who live with friends Packy (Peter Campion) and Niamh (Kat Reagan). Ma is played by Tracey Lynch. In the first episode, Packy bumps into Ryan, an old friend from home, who's a lovely polite fella whose hand got shot off during a hold-up at a garage where he was working, covering Packy's shift.