Kimberley Walsh has said in her autobiography that Louis Walsh was not a "hands on manager."
Kimberley's autobiography is being serialised by The Sun and the singer has revealed her disappointment with Louis' management of the group after they won Popstars: The Rivals in 2002.
Her book reads, "He has since admitted to me that he didn't know what to do with five girls and that he was a bit scared of us, but I'm not sure that's the whole truth."
"Louis has just never really been a hands-on type of manager and back then we suffered because of it."
She continued, "Whatever the case, his disappearing act meant we had nobody looking after us and nobody fighting in our corner as far as the record company decisions went."
Kimberley noted the effect his alleged lack of help had on the group, "Nobody organised hair or make-up costumes, styling or anything like that, so consequently we looked absolutely horrendous most of the time."
"There we were, this fabulous new girl group with two top three singles under our belt, turning up in t-shirts, jeans and trainers, or whatever we happened to be wearing. Sometimes we'd step out on stage looking like a complete hotchpotch of uncoordinated horror."
Her autobiography A Whole Lot of History will be released on September 26th.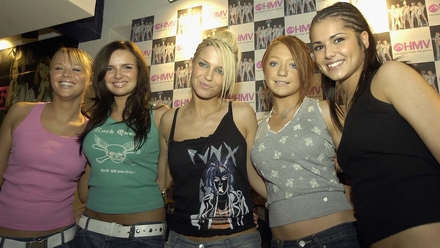 Girls Aloud in 2003.