Barbara Windsor has revealed that she is often tempted to return to Eastenders on a full-time basis.
The actress, who will make a one-off return as Peggy Mitchell next week, has said that she will not rule out a regular stint on the BBC soap.
She told The Sun: "Of course it has tempted me but who knows what the future holds? To be a part of such a great British institution is an honour.
"Going back was exactly the same as I had felt 19 years ago. I felt sick with nerves. I was the new girl again.
"I was absolutely overwhelmed to see all those familiar, friendly faces again. EastEnders will always be so very special to me."
Windsor also revealed that she was persuaded to make a return appearance on the show by co-star Perry Fenwick, who plays Billy Mitchell.
She added: "Since I left, I have been asked to go back on various occasions. When Phillip Schofield asked me on This Morning earlier this year if I had been tempted to return, I said, 'Many times' - but I was not sure that the time or storyline was right at that time.
"I was then told of the current storyline with Phil having been involved in a bad accident and he had given up on life.
"It seemed right to me that Peggy was the only person who could go back and give him a much-needed kick up the backside. All it took was a phone call from Perry.
"Steve was the reason I had no hesitation in returning to the show for this storyline. My admiration for him as an actor is way up there with the best."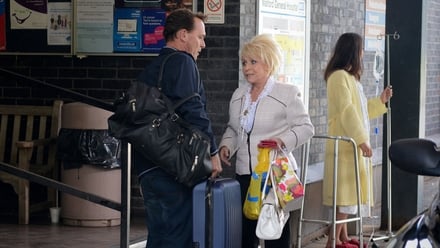 It was Perry Fenwick (Billy) who persuaded Barbara to return