Steve Coogan has opened up about his role in Philomena.
The Alan Partridge star said that although he loves doing comedy, he wanted to do "more" than make people laugh, according to the London Evening Standard.
The film follows Philomena Lee's (Judi Dench) search for her son who nuns forced her to put up for adoption, with journalist Martin Sixmith (Coogan) assisting her in her quest.
Sixmith's book The Lost Child of Philomena Lee helped other Irish children reunite with their mothers following its publication in 2001.
Coogan, who also wrote and produced the film, said: "You get strait-jacketed. I love doing comedy but I've done it. You get hungry for something more.
"This [project] touched me and spoke to me, with regards to my own background as a Catholic. And I thought the story was very universal."
The actor added that he was intimidated by Dench's presence on set, saying: "I thought, 'I'd better pull my socks up, I'd better bring my 'A' game, be as good as I can possibly be, or I'll be dwarfed by her presence'".
Philomena will be released in cinemas on November 1.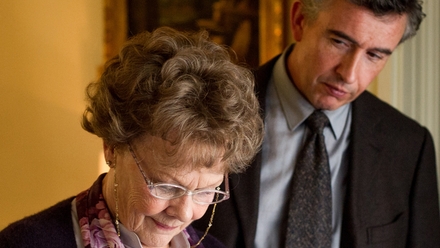 Judi Dench and Steve Coogan in Philomena