It's big, real big and Cheryl Cole loves it. We're talking about the tattoo that covers a large part of the Cole derrière and a goodly part of the small of her back and Chezza has been busy defending her latest and most extensive inking.
The full size of Cole's latest tattoo was revealed in a photo posted by her tattoo artist Nikko Hurtado on his Instagram profile last Friday.
"Here is a in progress shot of a Tattoo I've been covering up and reworking. Really excited to show healed shots," he wrote. "It was some intense tattooing sessions. She's tough as nails."
Cole first showed off her latest body art during Girls Aloud's reunion tour earlier this year and has now defended the extensive inking which covers her bottom and the top of her legs.
Yesterday Cole said on Twitter: "@adamtweedyGA awww! People are entitled to their own opinion. Personally I've never really concerned myself with other people's body parts!"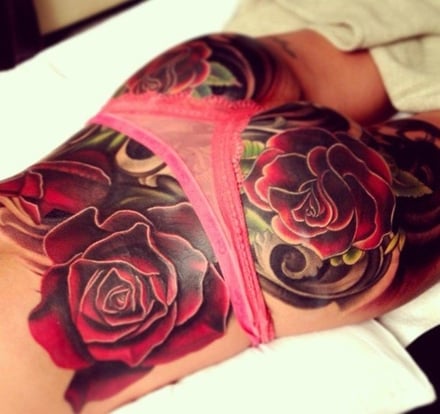 @instagram/nikkohurtado
She added: "I have personal meaning behind it but English roses are my favourite flowers."
When asked how painful the 15-hour process was on a scale of one to ten, she said: "Overall I'd say 9-10! I can pretty much safely say I'm done [with tattoos]."
She added: "I've had it for maybe 7-8 months, it was a long process but only just detailed it. The guy is a genius, a true artist and he helped me to cope a lot because I felt like I was in very safe hands."