Neil Byrne, manager of Sligo's Strand bar, told RTÉ Ten that Liam popped in for breakfast this morning with an unidenfified fellow Beady Eye member.
"He had a full Irish with a Guinness head," said Neil. "He said he wanted to go out a do a spot of surfing but the conditions weren't great so he came in for some breakfast."
Liam, who has relatives in nearby Mayo, hung around the Strand bar until 12.30pm but when he began to be spotted by customers he left the venue. The most recent sighting has him in another local pub called Hargadons.
The Strand has had its share of famous visitors in the past with Woody Harrelson and members of local lads Westlife dropping by over the years.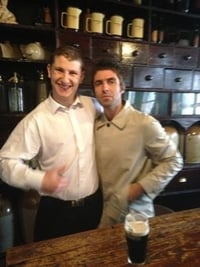 Liam with barman John Bellew