Twelve new portraits painted by Bob Dylan are to be exhibited by London's National Portrait Gallery at the end of this month.
The pastel portraits are the latest studies from Dylan, who has sketched and drawn since he was six and painted since the late 1960s, but only began to publicly show his art six years ago.
The National Portrait Gallery says that the works "represent characters, with an amalgamation of features Dylan has collected from life, memory and his imagination and fashioned into people, some real and some fictitious."
Art historian John Elderfield, who helped bring the display to London has said that Dylan's paintings, like his songs, are "products of the same extraordinary, inventive imagination. The same mind and eye, by the same story-telling artist, for whom showing and telling – the temporal and the spatial, the verbal and the visual – are not easily separated."
A spokesman for the National Portrait Gallery told RTÉ Ten that there are as yet no plans to bring the works to Ireland.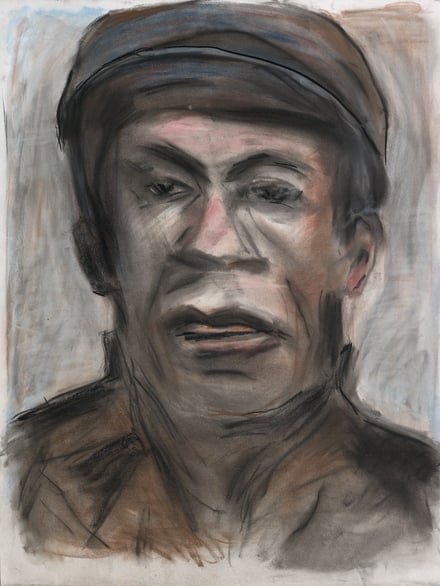 Skip Sharpe by Bob Dylan © Bob Dylan
In other Dylan news closer to home, this Friday (August 9th) sees the first Dylan Fest take place in Dublin. Guests including Nick Valensi and Albert Hammond Jr of The Strokes, Gavin Friday, Fran Healy of Travis and Bell X1's Paul Noonan and Gemma Hayes will play The Academy and discuss the work of the 72-year-old folk and rock veteran.
Tickets for Dylan Fest cost €25 and are on sale now from Ticketmaster with 100% of all sale proceeds going to Sweet Relief Musicians Fund, which has been offering vital assistance to professional musical artists in need since 1994.