2fm presenter Hector ÓhEochagáin welcomed his newest listener yesterday when he met baby Owen William O'Donnell who was born at the same time as the new Royal baby.
Hector surprised new parents Donna O'Donnell, 26 and dad Tony when he visited the little bundle in Clonmel Hospital, Tipperary.
The presenter announced details of Owen's arrival live on Breakfast with Hector on 2fm, revealing that the six pound, one ounce baby was born at 4.24pm, the same time as the royal baby.
Already father to 13-month-old Jake, dad Tony spoke about the reaction to Owen's birth: "He's like a celebrity here - I was downstairs getting some air and people were coming up to me congratulating me on the arrival of Owen."
Tune into Breakfast with Hector on 2fm from 7am to 10am live on 2fm, 90-92fm, or listen via the RTÉ Radio Player www.rte.ie/radioplayer or on the RTÉ Radio App on your mobile device.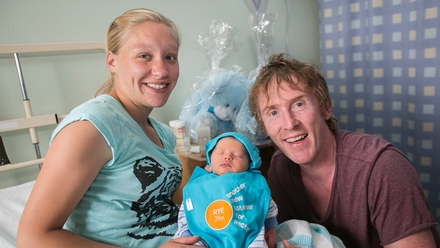 He added: "Word has spread throughout the hospital that Owen and the new prince share the exact same time and date and there is huge excitement around.
"We never expected this reaction in a million years but it just adds to our excitement. It's honestly a day (and time) that we will always remember."
However they didn't name their son after Prince William: "We had the name picked already as we saw the name Owen in a baby book some time ago and instantly liked it. Donna's dad name is William so his second was always going to be William. We had the baby named before we heard the news about the new prince so it was pure coincidence."