Love/Hate, RTÉ Two, 9.00pm
Yes we know it is a repeat, but it is still as brilliant as the first time we watched it, so it is definitely worth a mention here. When the BBQ is burnt out and the kids are gone to bed, catch up with Darren, Nidge and the gang. In tonight's double bill, which includes the finale of series one, the gang come back from Nidge's stag party in Prague to learn that Jimmy Byrne is back in town. His friends think Darren should kill him as soon as, but Darren's not so sure. Tension mounts as Darren needs to make decisions not only about whether to follow through on his suspicions, but about what he should do about his feelings for childhood sweetheart Rosie.
America's Got Talent, TV3, 9pm
It's that time of year again! America's Got Talent returns with host Nick Cannon, in search of the most talented person in America. This series sees the introduction of two new judges, supermodel Heidi Klum and Spice Girl Mel B, who will join returning judges Howard Stern and Howie Mandel. In a true celebration of the American spirit, a colourful array of hopefuls audition all vying to win that $1 million prize.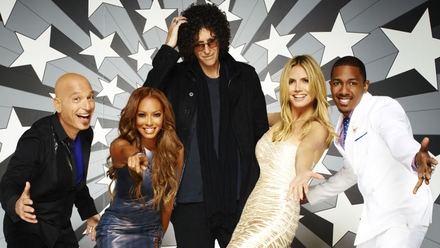 Trojan Donkey, Channel 4, 11.05pm
In the fourth episode of this hilarious adult comedy sketch show, starring PJ Gallagher, Jim Nugent and Sharon Manion, Mr Mmmm searches for the perfect suit for an old woman's birthday party. There's a big announcement from Jumperman who tells the pet shop that his dog is gay, Seanie poses some unusual Photoshop requests, while Henry Gordon holds open auditions for an unusual drinks commercial.