David Beckham has poked fun at his wife Victoria's serious reputation by posting a close-up snap of the 39-year-old star smiling.
The 38-year-old sportsman, uploaded the candid picture on his Facebook page, followed by the caption "See I told you she smiles."
The post has received over 300,000 "likes" since it was posted on the social networking site.
The celebrity couple recently made a public appearance together in China on the country's Central Television network as part of a goodwill tour promoting football.
Victoria appeared to be overwhelmed by the scores of fans who greeted her at Beijing airport on Saturday, taking to her Twitter page writing: "Thank u to my amazing fans here in Beijing, what a welcome!!! X vb."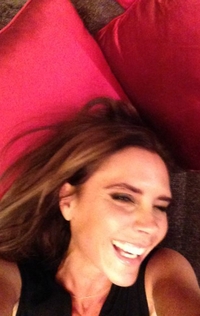 "See I told you she smiles," writes David