Hugh Laurie and Stephen Fry have discussed plans to work together again in the future.
Laurie revealed to Kirsty Young on BBC Radio 4's Desert Island Discs the he and his former comedy partner often talk about a reunion project.
He said "I think probably sketching is a young man's game because, by and large, it's about mocking people much older than you.
"We are now not only the age of cabinet ministers, we are actually probably older than half the cabinet."
The pair met at Cambridge University and went on to make the sketch show, A Bit of Fry and Laurie, between 1987 and 1995. They also starred together in the TV comedy drama, Jeeves and Wooster, between 1990 and 1993.
Speaking about the type of project they might work on he said "A sort of Flanders and Swann-type stage revue with a couple of wing chairs and a rug and a decanter of Madeira and my colleague will recount amusing stories and I will sit at the piano and play ditties.
"I know no more than that - we have not advanced with this idea but that would be my pick of the way to go."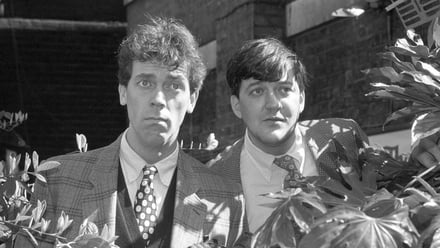 Hugh Laurie and Stephen Fry pictured in 1990