The actor, James Gandolfini, best known for his role as mafia boss Tony in HBO's hit drama series, The Sopranos, has died at the age of 51 in Italy.
He died yesterday of an apparent heart attack in Rome. The actor was on holidays and was due to attend an event at the 59th Taormina Film Festival in Sicily on Saturday night with actress Marisa Tomei.
Gandolfini was best known for playing the New Jersey mafia boss, Tony Soprano, in six seasons of The Sopranos which ran from 1999 until 2007.
He won three Emmys for the role in the series which was a huge international hit for HBO.
His most recent film roles include Zero Dark Thirty and The Incredible Burt Wonderstone.
The actor had recently returned to HBO where he was working on a seven-part series called Criminal Justice. In the series Gandolfini was set to play a down at heel lawyer who hangs about police stations looking for clients.
HBO said in a statement "We're all in shock and feeling immeasurable sadness at the loss of a beloved member of our family.
"He was special man, a great talent, but more importantly a gentle and loving person who treated everyone no matter their title or position with equal respect. He touched so many of us over the years with his humor, his warmth and his humility."
The Sopranos creator David Chase called Gandolfini a "genius" saying "He is one of the greatest actors of this or any time. A great deal of that genius resided in those sad eyes. I remember telling him many times, 'You don't get it. You're like Mozart.' There would be silence at the other end of the phone. He wasn't easy sometimes. But he was my partner, he was my brother in ways I can't explain and never will be able to explain."
Gandolfini was born into 1961 in New Jersey into and Italian-American family with Italian being spoken in his home. After graduating from the local High School he went on to earn a degree in communications studies and worked as a bar tender and club manager before embarking on a career in acting after being introduced to it in New York by a friend.
The actor's other film credits include True Romance (1993), Get Shorty (1995), The Mexican (2001), The Man Who Wasn't There (2001), The Taking of Pelham 1 2 3 (2009), Welcome to the Rileys (2010) and Killing Them Softly (2012).
He also won praise for his stage work earning a Tony Award Nomination for his role in God of Carnage opposite Jeff Daniels and Hope Davies.
The actor is survived by his wife of four years, Deborah Lin, their daughter Liliana who was born in October, his teenage son, Michael, from a previous marriage and his two sisters, Leta Gandolfini and Johanna Antonacci.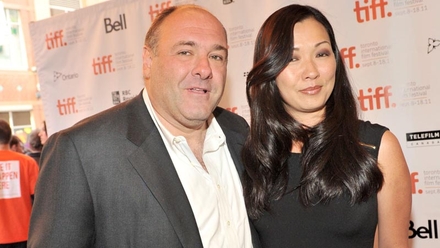 The actor pictured with his wife Deborah Lin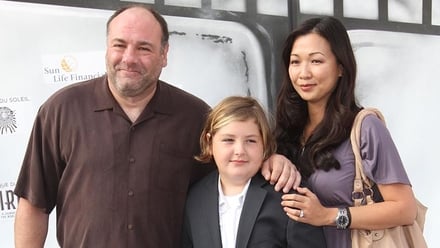 Gandolfini with son Michael and wife Deborah Lin