Over one thousand singers turned up to audition for Louis Walsh's new boyband in Dublin recently and the search is about to enter the final phase.

Speaking to RTÉ TEN, Joanne Byrne whose company Presence PR has looked after Westlife and will look after the new band said: "Louis auditioned just under one thousand boys in the Button Factory [over three days earlier this month] and that was whittled down to 140, which was whittled down to 74.

"A lot of them were facing the leaving cert and we want them to concentrate on their leaving cert so phase three of the whole process will happen towards the end of June, beginning of July, when Louis has a break.

"He went back to X Factor, he had his first day on Tuesday so with that we start the next phase...I don't think Louis has decided exactly what the next phase will be but I would imagine it would definitely involve dancing of some sort, looking at pairings at how people work and how people look...to look for guys that look like they could be part of a group.

"Louis really wants to get this right so it'll take as long as it takes."

 
The auditions took place from Saturday May 18 to Tuesday May 21, Byrne added: "We had the most on Sunday because a lot of young lads were able to travel up from the country and we had guys travelling from Denmark, from Sweden from England, so people made a real effort to make it.
"Louis was totally blown away by the standard. I was talking to a lot of lads afterwards and a lot of them were completely shocked that he sat for every single audition. I think they thought there'll be a preliminary round and then Louis will come in but as Louis [said] it's far too important for him. So he sat through the good, the bad and the ugly!"
The auditions were all recorded: "We filmed every single one of them [just as] we did with Wonderland when it was an ITV special on Wonderland, the girl band. We were able to see them standing for their first auditions and I think it's going to be something similar. Louis wants to see what they're going to look like on a stage...He was blown away by the talent and he said he'd get two or three bands out of it."
She added: "What I found really interesting in comparison to perhaps the last time there was some kind of a boy band audition, there were much more boys who were clean pitched, that were pitch perfect.
"Although if I never hear Marry Me by Bruno Mars or Little Things by Ed Sheeran or any Irish young lad trying to sound like Paolo Nutini again it won't be a day too soon!"
As to whether they'll turn it into a TV show, she said: "I don't know but if you don't have the footage, you can't use it. The whole idea is that you have the footage, if that opportunity presents itself. At its most basic that footage is used by Louis and his team of advisors to look at the raw talent and if it's used further down the line for a television programme then so be it."
The X Factor judge is still looking for five new stars: "He swears by the number five for obvious reasons [Boyzone, Westlife both originally had five members] so Louis and the number five go hand in hand."
However on a final note of hope to all those who made it into the final 74: "He's really enthusiastic about it and very confident that he has found some unbelievable talent."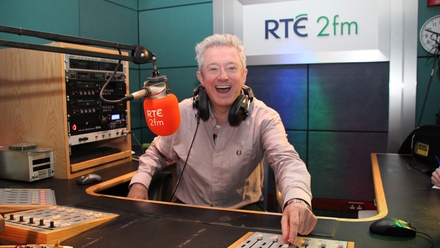 Louis Walsh pictured in studio when he presented a show on RTÉ 2fm on Bank Holiday Monday.