Former Westlife star Nicky Byrne and TV presenter Aidan Power are excited about co-presenting the brand new six-part TV series, The Hit, on RTÉ One.

Speaking at a press call in RTÉ about the show, Byrne said: "When a show comes up like this, it's an amazing opportunity. It's [The Hit] is kind of based on that format where the songwriter is pitching to the artist."

He is delighted with the chance to present live TV: "I've never made any secret about wanting to present, right through Westlife. My first experience in this room we're sitting in now [the main RTÉ Green room] was when I went to audition for The Den.

"I'd already joined IOU, which was [the band] before Westlife and we'd no record deal and Louis [Walsh, Westlife manager] being Louis sent us down to The Den because Ray D'Arcy left they were holding open auditions.

His new co-presenter, Power interjected: "I went for that as well!"
Byrne added: "Was it Damien McCall, who presented it in the end? Yeah, that was my first experience of being in front of the camera and you had to present it as live, even though it wasn't going out live. I met Dustin for the first time, which as an 18 or 19-year-old was a big thing.

"The Hit is a good format, its Irish, made up by VIP [Production Company], derived here, it's already had huge interest across the world. For me and for Aidan, this is a big prime-time RTÉ One, Friday night – it's a big chance for everyone involved."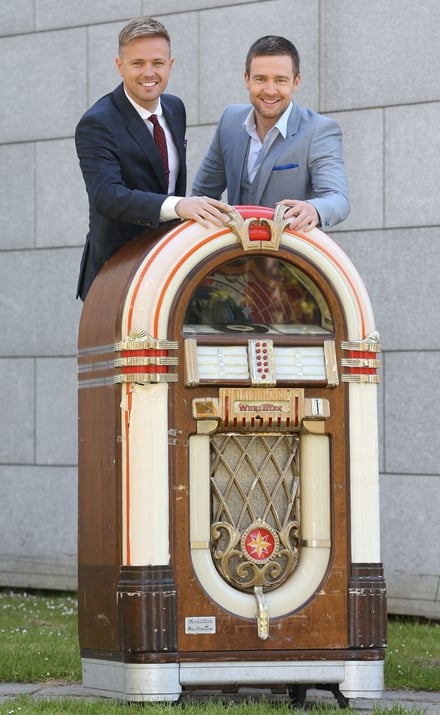 Power: "It's a huge show for us to be fronting and I think what sets it apart is the scale of the show – the fact that it's being done in the O2. There's going to be an audience of thousands, it's going to be live on a Friday night so it's big live TV.
"Then also what's different is the focus on the songwriters, it's the behind-the-scenes people being brought to the fore. They get to work with the best of Irish music talent who are going to record their songs and this guy Steve Lillywhite, Grammy award winning producer. There are a lot of big elements coming together so for us to get to be the two messers who get to front it, it's going to be a good laugh!"
The show will see songwriters pitch their songs to two established music stars over five weeks, in the hope that they will pick their song and in the final week, the five songs will be performed before the winning show, The Hit, is chosen.
Audience tickets for each of the six live The Hit shows will be available to buy shortly.