Sally Field has opened up about her Lincoln co-star Daniel Day-Lewis, saying that he is "hysterically funny".
The actress revealed that he is a "rascal" who has been a bad influence on her when they are at award ceremonies.
She told the Mail on Sunday:  "Daniel is an absolutely hysterically funny rascal. He always wants to do something funny and I'm always going, 'Daniel, we can't do that!'
"He's completely outrageous. We were together at the Screen Actors Guild Awards presenting on stage together and he's like, 'OK let's do something stupid.' I'm going, 'No I'm trying to be dignified'.
"We came out on the stage, I had to read something but I couldn't see the monitor so I brought out my piece of paper to read from and he took my glasses so I couldn't see, so then I had to take his glasses off too.
"We were laughing hysterically and being completely silly."
Field also praised the actor for being so accomplished in both his career and personal life.
She added: "Daniel is a most marvellous, enchanting, intelligent, funny man. He's also a phenomenal father and as good as man as he is an actor.
"So there you have it. It's disgusting, actually! He has it all."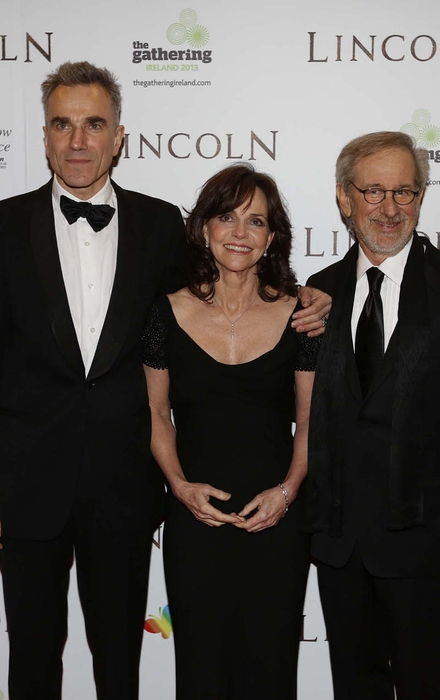 L-R, Daniel Day-Lewis, Sally Fields, Stephen Spielberg