A sneak peek of Jennifer Lawrence as Mystique in X-Men: Days of Future Past has been revealed.
Director Bryan Singer gave fans a first look of the actress as her X-Men counterpart in a photo he posted on his Twitter page.
He wrote: "First look: #JenniferLawrence as a vengeful #Mystique. #XMen #DaysOfFuturePast"
The photo shows Lawrence in a blue body suit as opposed to paint, with yellow contact lenses and bright copper hair.
Lawrence previously said: "I'm so excited because I'm going to wear a body suit. It will be from neck down so it will cut out time and the blisters."
She will rejoin X-Men: First Class cast members Michael Fassbender, James McAvoy, and ex-boyfriend Nicholas Hoult in the film.
Hugh Jackman Halle Berry, Patrick Stewart, Anna Paquin, Ellen Page, Ian McKellen and Shawn Ashmore will also return from the previous trilogy.
Peter Dinklage, who plays much-loved Tyrion Lannister in Game of Thrones, will star as one of the film's villains.
X-Men: Days of Future Past is scheduled for a July 18, 2014 release date.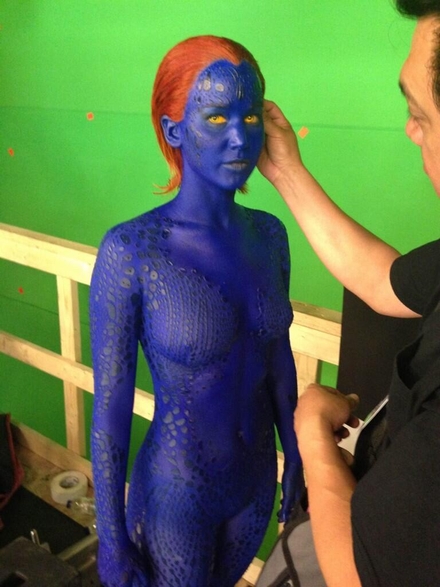 Image via Bryan Singer/Twitter