23.30 Well a dissapointing result for Ireland's Eurovision team, but it was a great performance by Ryan and the gang. It's all over for another year. Onwards to Denmark!
23.21 Praise the lord two more points for Ireland. Yeah
23.20 Denmark has won it!
23.19 And now the end is near... hopefully
23.16 I think I am going to start writing up the story announcing the winner. It is safe at this point to say it is Denmark's night!
23.13 Now that's the way it is done Nicky, no messin' about or trying hog the camera like half the presenters that have gone before! Well done and apparentely we like Denmark too. Game over has to be
23.12 That has to be it for Denmark after douze points from France
23.11 Seriously could somebody not give us a few points - just enough to pass out Spain?!
23.10 It's raining in Germany
23.09 Where's Nicky
23.07 It's not all over yet, Denmark are being closely followed by Ukraine and Azerbaijan
23.04 I though we might get at least one point from Belgium, I know at least two Irish people living there - but they must have been out tonight.
23.00 Denmark has a fair auld lead at this stage and I am seriously losing interest.
22.59 20 out of the 39 countries have now cast their votes and it's not a good night for Ireland. We are cancelling our European holiday this year. Keep it local I say1
22.56 We are back in last place at the moment unfortunately
22.55 Is there not a class the presenters can go to before taking on the mammoth job of announcing their country's vote?! Dear lord there have been some disasters.
22.53 The Armenian guy thinks he is on the X Factor, in your own time...
22.52 Come on Malta!
22.50 We are sitting in 23rd position after the votes from 12 countries are in just behind the UK
22.49 I think it is fair to say it is not going to be our night.
22.48 Keeping it local those boys from the Ukraine
22.47 Hmmm.. Denmark are beginning to gather the big Mo(mentum)
22.46 The favourites, Denmark are doing well!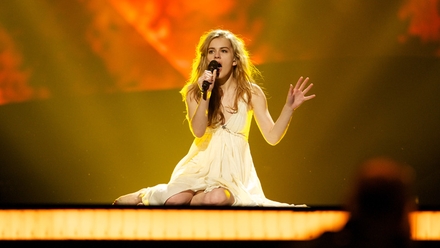 22.44 We only got 1 point from the UK - they usually give us more than that! Is it too early to call it?
22.43 Two of my favourites - Hungary and Malta - not doing too badly
22.42 Albania is also off the holiday list
22.41 And we are off and crawling with 2 points
22.40 Bit of a sympathy vote going on there, we are not going to San Marino on our holidays
22.39 And away we go.
22.38 New frock alert, going large!
22.37 Just noticed the time, how are we going to hear from 39 countries before 11.15?
22.36 It was inevitable that Abba would get a proper look in.
22.34 Ah Petra has got a green room pal with a dodgy suit
22.33 I think Petra might just have called Linda Martin a drag queen
22.30 That was Ikeatastic, you would have to say that Petra is earning her fee tonight
22.25 It's a bit old school but enjoyable
22.22 All things considered you would have to say that Sweden has done a great job hosting. Their comic interludes are a lot better done than previous efforts! And the bould Petra has been a bit of a find, despite her lack of outfit changes
22.18 Only a few minutes voting time left and don't forget you cannot vote for Ireland but don't forget to tweet your friends and relatives aboard and get them to support the man from Strabane
22.16 Don't forget to vote guys, this is your chance to make absolutely no impact, sorry I meant decide the winner!!
22.15 Yup they definitely blew the costume budget on Loreen. Shame about the song
22.12 I think they used the extra money set aside for a second dress for Petra to pay for the feathers on Loreen's frock
22.06 I think it is time for a nice cup of tea!
22.04 The voting lines are now open and can be viewed here
22.02 Petra's outfit was not the result of an explosion of pink bubblegum but was actually designed and by Jean Paul Gaultier no less!
22.01 Great performance from Ryan and the gang. And seemed to go down well with the audience
21.59 Here we go!
21.55 I wouldn't say judging by her frock that she would be risking a water feature like last year's
21.54 Nodi & Sophie are singing Waterfall for Georgia, not to be confused with Waterline sung by John and Edward last year!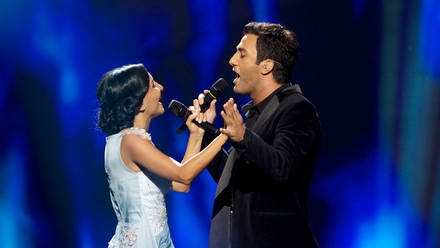 21.52 This is the unlikely named Margaret Berger from Norway with I Feed you my Love. It's not bad but let's be honest we are just clocking time at this stage until Ryan and then the voting
21.50 And then there were three
21.49 He really picked up the pace there by walking around the stage. Careful now... he might get carried away
21.47 The Italian staging seems a bit boring after the excitement of the second tallest man in the world.
21.45 I think Zlata peaked a little too early with the entrance - the rest of it was a bit meh!
21.43 Zlata from Ukraine certainly knows how to make an entrance
21.41 Vote for Greece I reckon, they look like they had to borrow a football kit to perform in tonight. They could do with a little good news. The song by the way is called Alcohol is free
21.39 Only five to go until Ryantime
21.39 That is a very small instrument
21.37 The award for stage gimmick of the night goes to... Perspex box. Well done Azerbaijan. Can't really recall the song.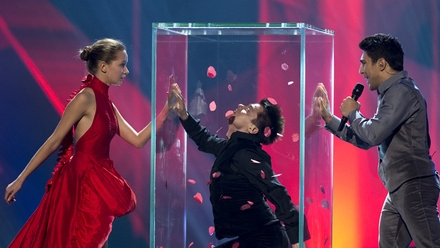 21.36 Is it just me or does the man inside the perspex box look a little like a Bourne-period Matt Damon?
21.35 Hang that, flexible man inside perspex box alert!!
21.35 Emotional man on a perspex box alert!
21.33 Oh dear lord he is sucking me in with sincerity and lovely hair. All together now... Eg a lif
21.31 Was expecting a totally different tune when I first saw him. He's a sensitive soul that Eythor Indi Gunnlaugsson - try saying that after a few babyshams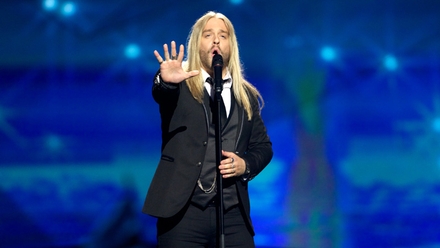 21.26 Can totally see how this one is in the running!
21.26 Next up is the hot favourite Denmark
21.23 Alright these lads are from Hungary (and actually I am hungry at this stage!) and are called ByeAlex (all one word if you don't mind). It's definitely a little out of the ordinary and I rather like it.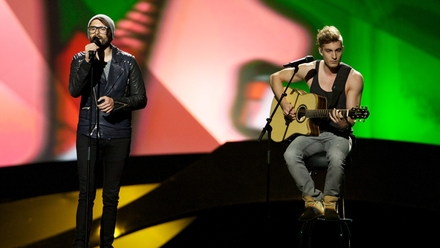 21.21 These lads are a vision in beige. A grand tune though and catchy. Can you believe it we have already heard 16 acts and it only seems like 20!
21.18 Nice job from Bonnie Tyler and Believe in Me for the UK. I can't see it being a challenger but let's hope if fares a little better that poor old Englebert last year.
21.12 Bloody hell, he sounds a little like Sarah Brightman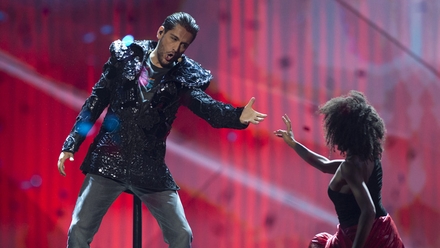 21.11 Cezar's dancers make Ryan Dolan's buddies look positively overdressed
21.11 Now that is an outfit!
21.07 It may just be me but does Anouk seem a little casually attired for a Eurovision final? She looks like she just got a last minute invitation to meet a friend for a drink and just ran out as she was. What I should be saying is 'You go Girl' you don't have to be trussed up like a turkey to sing a song. Tune was a little boring but okay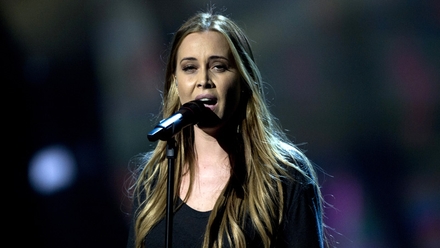 21.06 A brief interval there before we hear 14, yes you heard me, 14 more tunes. Next up is the Netherlands, Anouk is sining Birds.
21.01 I really though we had seen the last of Petra's frock but apparently the Swedes have cut back significantly on last year's Eurovision budget
20.59 Now these lads really look like they got lost on their way to a gig somewhere else. Lonely Planet is the name of the tune and they are representing Armenia. I really cannot see this one worrying the leaderboard. Next year they should try and get some Kardashian sisters to represent them and see how they get on.
20.57 That tune from Cascada also seemed to go down well in the hall
20.55 Somebody should tell Natalie from Germany that there is a heap more material hanging off the back of her dress. Bit of a dance anthem this one.
20.53 Dear lord the crowd really seems to like that one! Watch this space.
20.51 Together or apart I don't think poor Dina has much chance with this tune for Russia, Dullsville! And I am sorry but the dress is equally dull. Oh the boys have just thrown balls - ooh matron!!!
20.49 My colleague over in news happily cropped a shot of the lovely Petra in Pink!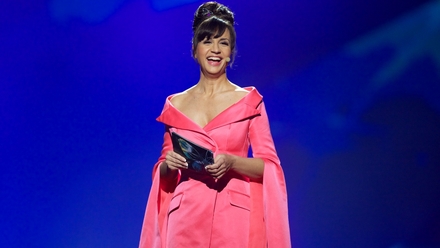 20.48 Tragically I really like this song from Malta, it is already stuck in my brain. I don't think Dr Gianluca has a chance in hell unfortunately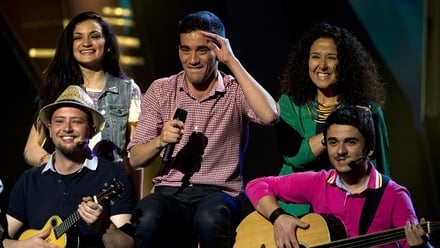 20.43 The short-straw costume of the night award goes to the boys supporting Alyona from Belarus. Both her outfit and the boys' seem to have been inspired by Kylie Minogue
20.39 We have already reached number seven on our list and this is Estonia, I love the dress. Birgit is apparently expecting her first baby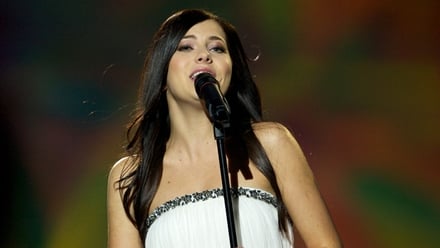 20.37 Bless Roberto from Belgium - he seemed delighted with his performance. It seemed to go down okay, not sure what purpose the dancers served
20.30 There is at least one guy playing guitar for Spain who I reckon wants to be in One Direction - I think he might have missed the boat. The vocal on that one seemed a little shakey in the lower register but the tune was nice enough! And the crowd seemed to like it.
20.26 There are two many questions to ask about this act - Why aprons? Why masks, just why? That's Finland and apparently Krista wants to get married ASAP.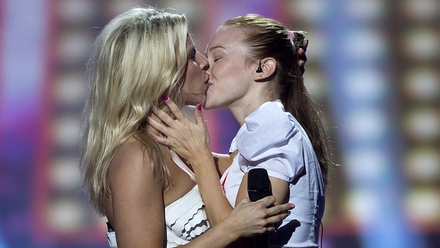 20.24 Aliona from Moldova there, that sounded to me like the perfect Eurovision tune - instantly forgettable! And here's a shot I prepared earlier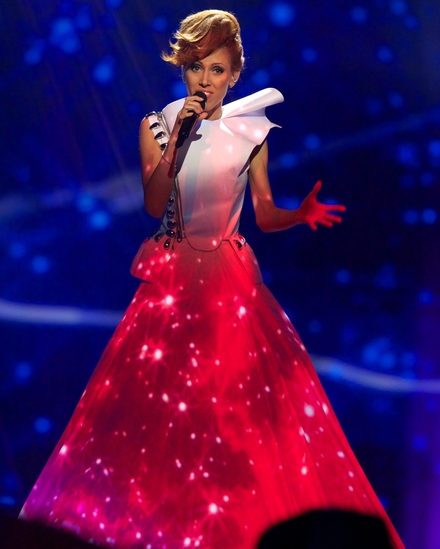 20.22 The lady with the big dress is on! She makes the brides on My Big Fat Gypsy Wedding look positively understated
20.20 Lithuania's Andrius Pojavis seems a little upset about his shoes and as Marty just clarified he was singing one is called love, the other is pain (as opposed to Spain)!
20.18 France first and she certainly gave it socks, but I can't see that one being in the running.
20.13 I don't have a picture of the pink dress yet but this creation from earlier in the week is worth having a look at. Petra has more than proved her fashion chops!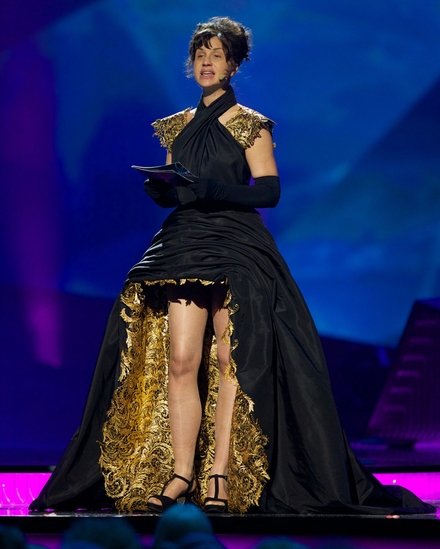 20.11 You would have to say that the lovely Petra is not going to get lost in the crowd in that dress. And the boots look pretty fierce too!
20.10 Norway will be delighted to be in the running this time out as they still hold the record for coming last more often than any other country - ten times. Although in compensation they have won it three times.
20.05 The acts are making their grand entrance, Ryan will be last as it seems to be in performance order
20.00 And they're off.
19.55 Brian Ormond is presenting the Lotto Draw this weekend, They must have given Nuala the weekend off!
19.51 Geri and Daithi have just helped Bernadette win €54K on Winning Streak. I suspect she won't be watching the Eurovision tonight. And the start is just moments away.
19.45 Just checking the odds here on tonight's competition and it seems like Denmark are the act to beat at 8/11 with Norway and Ukraine following. Eek Betfred have us at 66/1 but then when did anyone named Fred ever know anything about Euro pop?!
19.35 Nicky Byrne will be announcing the result of the Irish jury to the estimated 125 million viewers who watch the competition every year. No pressure there Nicky! All quiet on the top floor of the TV building here so I reckon he must be hanging out somewhere a bit more interesting.
19.30 Just half an hour to go to kick-off and it will be a long wait for Ireland's Ryan Dolan and his shirtless dancers as they perform Only Love Surives last of the 26 acts due to perform tonight. Best get yourselves a nice cup of tea or a beverage and buckle up.