It's the news we've all been waiting on, One Direction have today announced they will play Croke Park on May 24, 2014, as part of their Where We Are world stadium tour.
Niall Horan, Zayn Malik, Harry Styles, Liam Payne and Louis Tomlinson have been teasing fans all week on Twitter, declaring that they would have a big announcement to make today. And, true to their word, the uber popular boyband have announced that they will play Dublin's Croke Park on May 24 2014 as part of their Where We Are world stadium tour.
Alan Corr reports that "cheeky Mulligar native Niall" took the lead at today's press conference at Wembley Stadium in London and revealed to a packed media crowd: "We are doing a worldwide stadium tour.
"We will be touring in Latin America first then UK and Ireland. We are ecstatic. We have only been a band for three years and we're already doing stadiums - including Wembley."
Harry added: "It's important the fans and everyone who comes to see the show know it's going to be much bigger and new songs. A completely different tour."
Louis was still in shock that the band were making this announcement today (May16). He said: "Right now we just take each day as it comes and get ready for the stadiums. I can't believe I just said that."
All UK and Ireland dates on sale Saturday 25th May 2013 at 10am
And it won't be all work for the boys while they are on tour. Niall was keen to let fans know they will be up for partying while they are on tour.
He said: "We're big into partying and Brazil are big into carnivals so we're excited to get involved. We want to say a massive thanks to the fans because they made this for us."
The lads also took the opportunity to talk about the upcoming 1D movie, This Is Us.
Niall said: "It's good in the movie because people can see what we're like behind the scenes.
Harry added : "On twitter you only have 140 characters, you can't get personality across in ten minute interviews. It's [This Is Us] going to be a lot more of how we interact and how we're chilled out in the dressing room and it will be nice to see us as we are."
Niall also explained that the band were thrilled to be playing on some of the world's biggest sporting stadiums as they are all massive soccer fans and spend most of their downtime "kicking a ball about".
In fact once the press conference was over, Niall, wearing an Irish jersey, and Harry went down to the hallowed Wembley pitch and took turns taking penalties.
Here are the dates announced so far for One Direction's Where We Are tour, with many more to be added, including gigs in North America.
Latin America:
25th April – Estadio El Campin, Bogota, Colombia
27th April – Estadio Nacional, Lima, Peru
29th April – Jockey Club Paraguayo, Asuncion, Paraguay
1st May – Estadio Nacional, Santiago, Chile
3rd May – Velez Sarsfield, Buenos Aires, Argentina
6th May – Estadio Centenario, Montevideo, Uruguay
8th May – Apoteose, Rio de Janeiro, Brazil
10th May – Palmeiras Arena, Sao Paulo, Brazil
UK and Ireland:
24th May – Croke Park, Dublin
28th May – Stadium of Light, Sunderland
31st May – Manchester Etihad Stadium, Manchester
3rd June – Murrayfield Stadium, Edinburgh
7th June – Wembley Stadium, London
All UK and Ireland dates on sale Saturday 25th May 2013 at 10am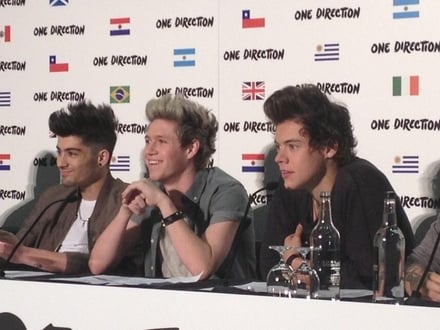 Credit: Amanda Fennelly (The Colm Hayes Show)