Dermot Whelan shocked Twitter fans last night as he announced his departure from RTÉ's Republic of Telly.
The 40 year-old host of the comedy show tweeted: "Thank you to all who watched the Republic of Telly over the last few years. I had such a ball but I'm leaving the show". He added "#NoMoreJokesLeft" to the tweet, which was published a day after the broadcast of the final episode of the current series, which aired on Monday night.
A statement from the RTÉ Press Office explains: "Dermot is doing a stand up comedy tour this autumn so isn't in a position to present the next series of Republic of Telly".
"Dermot Whelan is a great presenter and RTÉ has a strong working relationship with him. RTÉ is currently in discussions with Dermot about another project which is in the development phase".
Contrary to recent reports, the RTÉ press office have confirmed that Bernard O'Shea and Jennifer Maguire will return for the next season of Republic of Telly.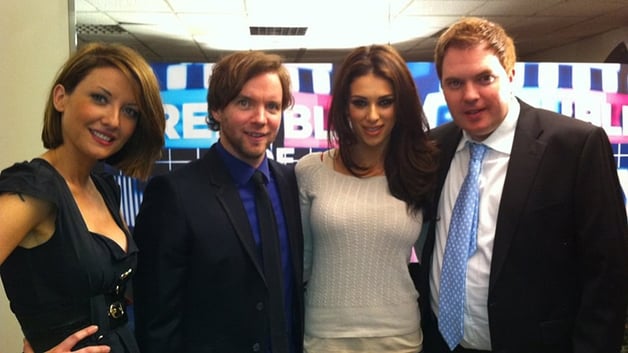 Republic of Telly stars Maguire, Whelan and O'Shea with frequent guest star Georgia Salpa
Whelan, who has hosted the popular show for more the 60 episodes, spoke to The Irish Daily Star about his plans to return to stand-up, saying: "I really want to get back to doing stand-up with Bernard and hopefully Jen will be able to make a few appearances too because we are all great pals".

Whelan, a Limerick native and father of three, also co-hosts The Dermot & Dave Show on Dublin's 98FM, with no plans to leave his radio role in the near future.