Former Misfits actor Iwan Rheon has hinted at a big screen adaptation of the E4 television series. In an interview with Digital Spy, the 27 year-old Welsh actor said "I think I'd be an idiot not to [do it]".
"I think it'd be a really fun thing to go back and revisit, because obviously I feel so much love for Misfits and gratitude to them and those guys at Clerkenwell Films and E4, and how they gave me such a huge opportunity and gave me a lot of really challenging stuff to do while I was there. So yeah, if I get the opportunity, I'd love to."
The series creator, Howard Overman, talked about the possibility of a movie after writing a spin-off script.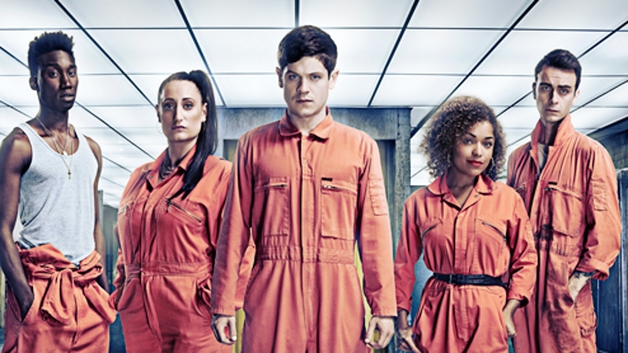 Misfits original actors Curtis (Nathan Stewart-Jarrett), Kelly (Lauren Socha), Simon (Rheon), Alisha (Antonia Thomas) and third series addition Rudy (Joseph Gilgun)
Rheon, who played Simon for the first three seasons of the show, added: "In a way, I do still feel like it never really got finished. I thought the Simon storyline in the third series was quite rushed and you didn't really get to see enough of it, for various reasons.
"I think it might happen. I think it's quite likely that it will happen, yeah, if they can get everyone together to do it."
Rheon is currently starring in Game of Thrones as Ramsay and will soon be seen in the TV series Viscious.