Nicki Minaj missed the start of American Idol showing up 13 minutes late for the first live show.
There was no chance Nicki Minaj could sneak into her work desk and hope that her boss didn't notice her late arrival, because her job is on live television and beamed into millions of people's homes across the world.

So when traffic forced her to be late for the first live show of American Idol, all host Ryan Seacrest could do was poke fun at the Starships singer.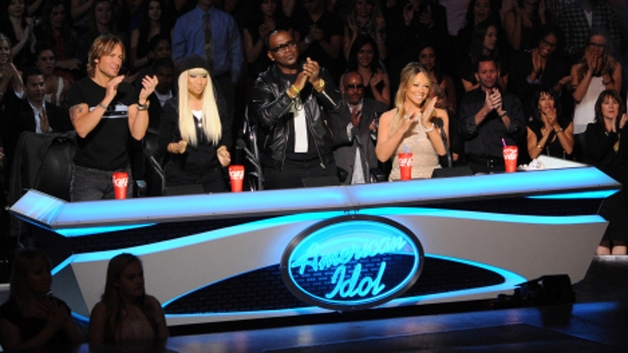 Nicki Minaj eventually showed up to work on American Idol

As the show kicked off a bemused Seacrest said: "We are coming to you live and on time. Say hello to three of your four judges who have made it here on time."
Seacrest then sat down in Nicki's seat to explain her absence from the live show.

"So this is where Nicki… I hear she is seven minutes out and there is some congestion on the 405 [Freeway], she should be here momentarily."
Fellow judge Randy Jackson then quipped: "I heard it was the 101 [Freeway]."
"Which one of you gave Nicki the wrong directions today? Which one of you drained the fuel from her car?" added Ryan. A smiling Keith Urban, simply shook his head and said: "I don't know."
"Well the show must go on so let's get the party started," said Seacrest.
Mariah Carey, who has had well documented spats with Minaj in the audition rounds, appeared irritated and shook her head in disbelief as Seacrest introduced the contestants.

Minaj eventually showed up 13 minutes into the show with a black hooded top over her head and giant sunglasses covering most of her face.