A recording studio which has hosted U2, Depeche Mode and The Rolling Stones has issued an appeal to musicians who have worked there to collect their master tapes - or else they'll be destroyed.
Dublin's Windmill Lane where U2 recorded parts of their albums Boy, War and The Joshua Tree are calling on all past artists to claim the tapes which include pre-digital recordings by the likes of AC/DC, The Chieftains, U2 and The Spice Girls.
Over the years these master tapes have begun deteriorating and are taking up valuable space as the studio goes through expansion.
The studio, which was set up in 1978 by engineer Brian Masterson, was originally used by traditional musicians before U2 began working there in 1980. Windmill has since relocated from its small quayside setting to Dublin's Ringsend Road and is now owned by Pulse Recording College. However, the old studio is still a site of pilgrimage for fans visiting the much-graffitied "U2 wall."
"We're appealing to any artists who've worked here using two-inch multitrack tapes to come in and reclaim them because we're in the process of disposing of these tapes," Ian Brady of Pulse told RTÉ Ten.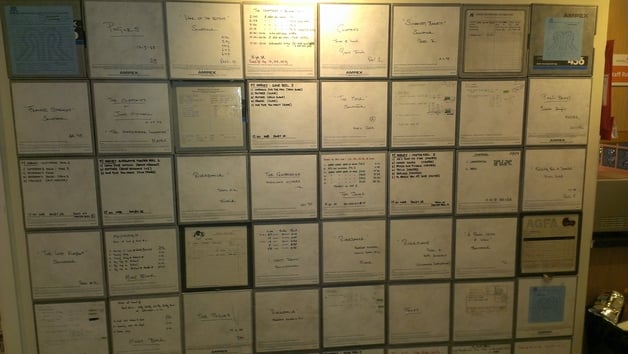 Some of the old tapes, including work by PJ Harvey, The Cranberries and Paul Brady, on display at Dublin's Windmill Lane Studios
"There's a lot of stuff here of huge historical interest by the likes of U2, Riverdance, AC/DC and The Chieftains but the tapes can weight tonnes and they occupy valuable space. It they're not reclaimed, they will be disposed of."
Brady adds that the studio is encouraging all enthusiasts and fans to drop in and pay a visit for their last chance ever see the significance of these nostalgic pieces all in one place.
"Disposal will commence on May 7th, and we urge any interested parties who wish to claim their tapes to contact us before that date." he says.