Bressie wears a kilt and teams up with Moone Boy star David Rawle in the video for his single, Show Me Love.
The first single from the Mullingar man's second solo album, Rage & Romance, sees young Master Rawle and his on-screen best mate, Ian O'Reilly, playing the parts of superstar producers pushing Bressie to his limit.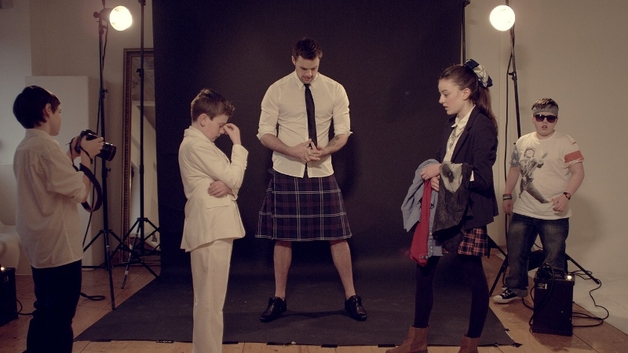 Bressie in a kilt for his new video, Show Me Love
Bressie struck up a friendship with the young actors while working with them when he played the part of a PE teacher in the second series of Moone Boy which will be screened this Summer.
"I was always told you should never work with kids or animals, they were so wrong!" says Bressie about his new video. "Having worked with the boys on the second series of Moone Boy, I struck up a great relationship with them and I asked them would they like to be in the video and they said they'd love to. We had a great laugh filming it."
Sweet!