Johnny Marr has played with everyone from The The to Talking Heads to Beck and Modest Mouse. Now he's finally released a solo album and he has a lot to say. Alan Corr talks to the maestro about going solo, The Smiths and his Irish roots
Johnny Marr is discussing his first guitar. "I got my first ever toy guitar when I was four or five years old and I've no idea why," he says. "It wasn't because I thought I was going to get rich and famous but I carried that little thing around like most kids carried a football or a toy gun or a toy fire engine and then I moved on to amplifiers . . . If I look around the room I'm in now all I can see are guitars."

Marr is in the Manchester rehearsal room where he's been working late into the night rehearsing songs from his debut solo album, The Messenger. "I like rehearsal. I've always liked it since I was a kid," he says. "Being in rehearsal just reminds me of why I'm in a band."

Or indeed why he's been in a lots of bands. So many in fact that you might say a solo album from Johnny Marr has been a long time coming and on The Messenger, he has a hell of a lot to say.
Now a young-looking 49 (vegetarianism and tee totalitarian helps), he is a very serious, intense, intelligent and slightly guarded interviewee; a deep thinker who mentions the work of Christopher Isherwood, Dali and Picasso as much as he extols the joy of making rock `n' roll.

On The Messenger, his majestic guitar playing ranges from the pastoral, to punchy new wave, to nagging rock outs, but Marr the singer and lyricist has finally stepped out from behind his many collaborators to explore some pretty diverse issues - reconnecting with his hometown, the oppressive nature of new technology and, as he says, "connecting with the person that I was before The Smiths."

Ah The Smiths. There comes a moment in every interview with Johnny Marr where you can no longer ignore the elephant in the room. The M word is mentioned and Marr either audibly groans or lets out an impatient sigh.

He is more than entitled to his quiet exasperation. Since The Smiths broke up acrimoniously more than a quarter of a century ago, Marr has kept working at a furious rate. He has brought his distinctive, era-defining guitar playing to The Pretenders, provided a lyrical counterpoint to the barbed politics of his old friend Matt Johnson in The The, and guested on Talking Heads' final album.

He also formed Electronic with Bernard Sumner, joined both UK rockers The Cribs (three top ten hits), and US indie-llectuals Modest Mouse (one US No 1 album), worked with Kirsty McColl, The Pet Shop Boys, John Frusciante and Beck and provided the soundtrack to Christopher Nolan's 2010 film, Inception.

In that time Marr's former foil and friend Morrissey has made (after a cracking start) increasingly lumpen solo albums and issued often bizarre and wrong-headed comments about everything from the British royal family to vegetarianism.

Fans of The Smiths have always been an obsessive lot but even now, a full 25 years after their demise, it seems that Marr will forever be caught in black and white as the guitar wunderkind, crouched in mid-feint to a pirouetting Morrissey.
Given that he was only 24 when they broke up, it's hardly fair that a lot of people just want to know about the last time Marr spoke to Morrissey and when they are going to reform. The pair haven't met since 1987 and, other than business, the only thing that has brought them together recently has been their joint condemnation of avowed Smiths' fan David Cameron.

So to paraphrase the deathless words of Taylor Swift, The Smiths are never getting back together.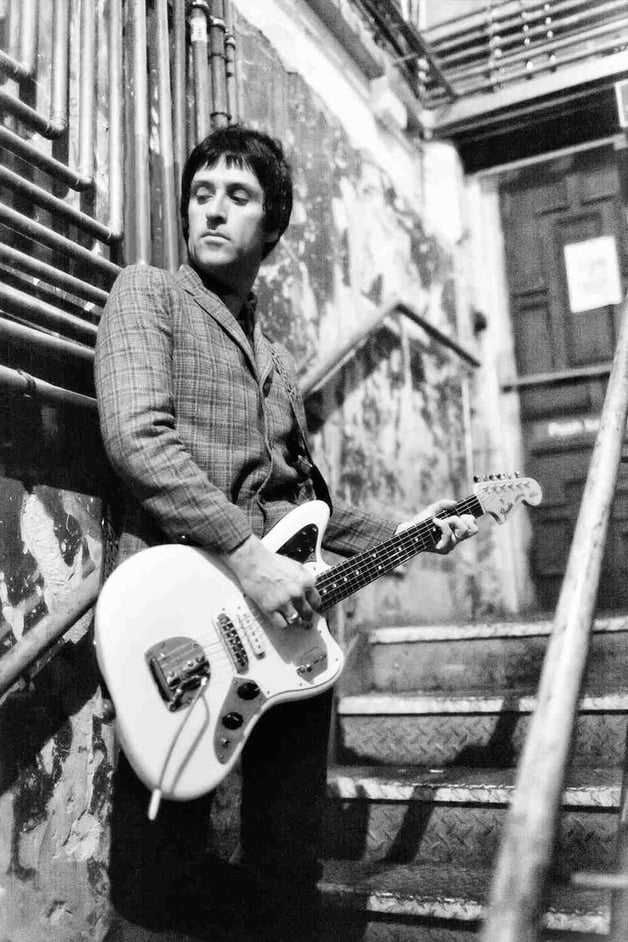 "I like emotional music. I just don't like emotional words and emotional singing,"
Marr has always been too busy moving ever forward. The Messenger is the latest stage in his hugely-productive career. Marr is well known as a guitar player of immense feel and sensitivity, but now he's stepping out from behind his many collaborators to pen his own lyrics.
Watch the video for The Messenger here.
"They were painstaking to write but I really enjoyed it. I like to work and I think anything you work hard on is enjoyable," he says. "I can't wait to do more of it. Quite a lot of the songs started off with the words and if you give me a set of good words and vocals I can make a record of some sort and I've done that with a lot of different singers over the years."

However, he has said that he is not interested in expressing his emotions. Maybe five years years with Morrissey will do that to a person but The Messenger burns with a kind of well-considered anger and defiance. As a Kinks' fanatic, Marr says he was more attracted to the detached, slightly bemused song writing style of Ray Davies.

"You know what? I like emotional music. I just don't like emotional words and emotional singing," he says. "I think that's for other people to deal with. Personally, I'd rather sing about what's going on in my mind rather than what's going on in my heart. I think there's more scope there really, you get to talk about buildings and cities and society a little bit more and that's what I'd like to explore more and more because there are so many stories out there."
Watch the video for Upstarts here.

Marr left school aged 15 (as he sings on New Town Velocity, "left home a mystery/leave school for poetry") and changed his name from Maher to Marr to avoid confusion with John Maher of fellow Mancunians, The Buzzcocks. Marr was the first member of his immediate family to be born outside Ireland. His parents left Athy 50 years ago and he has never forgotten his Irish roots. In fact, many of his greatest songs, especially with The Smiths, share a haunting quality with the Irish folk music he grew up with.

"I grew up in Manchester with second generation Irish families and both those things together combined to bring out a certain thing that is quite beautiful in all the music that I've made and it's quite intense too," he says. "You would not confuse my parents with being from anywhere else but southern Ireland and they brought me up to love my roots and appreciate my homeland. I've worked with Mani and Noel Gallagher, and Morrissey. All people with exactly the same background as me, they all play music and they all lived in Manchester and they all come from Irish families. So Ireland is still definitely a huge influence on me."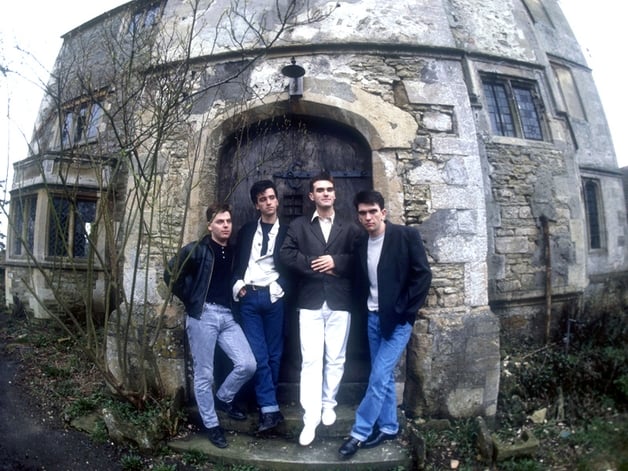 The Smiths: "I've got a duty towards the fans and also the rest of the band."
Marr has always been the keeper of the flame when it comes to The Smiths' legacy. A few years ago, he oversaw the complete re-mastering of their back catalogue and while he may understandably be tired of questions about their reunion, he will always be incredibly proud of the band many consider to be one of the most important of all time.

"It was a role I accepted partly because I formed the group and it is my nature to be very protective and think about the big picture and it's stayed my role ever since," he says. "That's OK, somebody's got to do it. When I was re-mastering every single track that we recorded it was obvious to me that it was almost, not the end, but a journey that I started out on my own. It was the culmination of something that I was working on when it was just me and my girlfriend.
"And that's absolutely cool and I think the other guys trust me to take care of business and it's so gratifying that the public and fans took the re-masters in the right spirit but agreed with it and liked it. It was a scary thing because I've got a duty towards the fans and also the rest of the band but that's ok. That was always my role."

It would be easy to think that Marr has reached a sense of closure with the release of The Messenger and his work on those re-masters. However, the truth is far simpler.

"With all respect man, the solo album has got nothing to do with a band I left 25 years ago," he says with a rare sign of testiness. "It's much, much more close to modern times than that. I wanted to do something different so I wrote a whole load of songs I had in my mind and I had a really strong feeling about the music I wanted to make. Hhonestly it's got nothing to do with something I finished in 1987."

The Messenger is out on February 22. Johnny Marr plays The Academy on March 27