"Are you kidding" was the response from Golden Globe nominated Irish composer Brian Byrne when he was asked "We'd love you to write this for Barbra Streisand, are you up for it?" He told RTÉ TEN's Taragh Loughrey-Grant all about it.

The Navan-born, Los Angeles-based Byrne spoke about working with Streisand, his Golden Globes nominated Albert Nobbs score, being chosen as the first ever Artist in Residence with the RTÉ Concert Orchestra and his new film Amos' Wake.

Byrne revealed how his relationship with the RTÉ Concert Orchestra coincided with the beginning of his working relationship with Ryan Tubridy.

"The first show that I did with the RTÉ Concert Orchestra was at Farmleigh and Ryan was the host", he said, "and we hadn't organised anything about what the MC would do and we met very quickly five minutes before we went out on stage in a back room and said 'Okay, let's do this, this, this, this and this' and we realised we liked each other, we were on the same wavelength, spoke similarly fast.

"He did the show and it was my first live conducting gig with the concert orchestra and the place was stuffed and he loved it and the next morning he got on the radio and championed me and we went to the Concert Hall and did the same thing we week after.

"From that every time I would come home he would involve me with the radio show and we'd do a live broadcast from here [RTÉ Studio One, where the CO rehearses]. I subsequently did The Late Late Show, we developed a working relationship initially and are friends now and he's been a great champion of mine over here from ten years ago and I'm very lucky to have that."

Byrne received a Golden Globe nomination for Albert Nobbs, which he said had a profound effect on his life: "Personally it gives you a huge amount of confidence, it's like somebody has handed you a validation or a key or a stamp to say 'You're a composer, you can do this and you're proven against other composers in the world that are working at the top of their field.

"It was an incredible thing to get to go to the Golden Globes, just to be in a room with all those people. From that it just opened up so many doors for me professionally, record companies, film agencies, I got signed to William Morris, people wanting to work with me as a songwriter as well as a composer, it also validates you as a songwriter.

"I was competing against Madonna, Elton John, Chris Cornell, Brett [McKenzie] from The Muppets and then [working with] Glenn Close, it was a surreal moment where I went from teetering doing some nice things and then suddenly you're catapulted into a different dimension and it's scary in a way.

"Now doors open a lot easier, I just worked on a movie [Amos' Wake] this week and I got that as a result of Albert Nobbs, because the young director was looking through the list of William Morris composers and he saw Albert Nobbs and it was his favourite film, his favourite score and he didn't think he'd get me.

"If this was last year I'd just be glad to get the work but now I have choices, which is amazing. So it really, really helped me and it also lit more of a fire under me because I didn't win the Golden Globe and now I want to win one, I want to win an Oscar so it's game on. We're on the next level and we have to start again, so it was amazing to be nominated."

He told us more about the new film: "It's an Indie movie called Amos' Wake and it stars, is produced and co-written by Shiloh Fernandez, he's a young 'heartthrob' in Hollywood.

"He's doing what Matt Damon and Ben Affleck did, he got his best mate, they wrote a script, they produced it themselves, they've made this movie for not a lot of money, I think it's going to do really well on the Indie circuit in festivals. They approached me to do the music and I saw what the money was and I thought it must be terrible. I watched the screening of it and it was shot so well and the acting was great so I thought this would be the perfect thing to bring home to Ireland and try to do it with the Concert Orchestra, using the same…orchestra as I did for Albert Nobbs and they were thrilled when they heard that might be a possibility.

"I came home…and have been working on it since. Now we've scored it, I was up for three or four nights, mixing it and recorded Danielle de Niese [soprano] singing some opera tracks that I wrote for it so it's been pretty busy, along with the IFTAs."
He was asked by IFTA to conduct the RTÉ Concert orchestra at their recent awards' ceremony: "They came to me for the Tenth anniversary and they wanted to have some live music. I was at the show last year with Albert Nobbs and there was no live band so I thought it'd be great.

"It was a huge amount of work and luckily I got the RTÉ Concert Orchestra in, we've a great relationship, I try to bring as much work as I can in because I like working with the orchestra…and it's nice to be loyal as well, I know what they can do…In other words if you want me, you have to take the whole package…

"It has to be good because it's national television, it's a huge show, it represents television and film in Ireland, it'll be on Youtube. I don't do things by halves."

Byrne has said in the past that his biggest fan and critic is his father and he paid tribute to him through his work with a piece of music which was played during the IFTA Memoriam section: "I wrote Lament for the Fallen for an album I did with the Concert Orchestra called Tales from the Walled City which was a collection of music that I had written.

"I needed two short pieces to finish the album, literally the night before the last recording I thought 'I need something'. I always need a muse to write for a film and one of the times I was home before that, I was out having a few jars with Ryan and he was reading a lot about the famine.

"I'd read a lot about the Famine when I was younger and he said 'I must get you to write a violin piece and we'll do something down the road'. And of course if someone says will you do something then the notes start going in my head, you start thinking about.

"The night before I thought this might be an opportunity to write a fiddle piece and also my father had passed away in 2010 and I was writing a lament to him, for him. So I tied the two things in together and it gave me something to focus on and recorded in LA and the orchestra were here. Nicola Benedetti played the fiddle on it and it just turned out great. This year for the IFTAs in the memoriam section, they were asking me what kind of music should we do for that and I said 'I have this piece that's Seán Ó Riorda meets Ennio Morricone.'

"It's an old traditional Irish style tune orchestrated with how Morricone might do one of his themes and I fused them together. It can be upsetting to hear it but for me it's therapeutic, I find when I listen to it and when people listen to it they relate to it that way."
Having worked with some of Ireland's well known musicians and film directors, Byrne decided to leave for Los Angeles: "I moved to LA ten years ago and I went out there not knowing very many people…

"I was doing really well here, I was orchestrating for Jim Sheridan's movies and I was starting to make ways with the Orchestra, playing piano and doing arrangements, arranging with Bono so I had some good credits here.

"I had a lovely house, a lovely car and I was 26 and I thought there was nowhere else for me to go. I couldn't break into composing for film because there was only three directors and they all had their guys who were twenty years older than me so I thought 'I'm going to go to Los Angeles', I always wanted to go."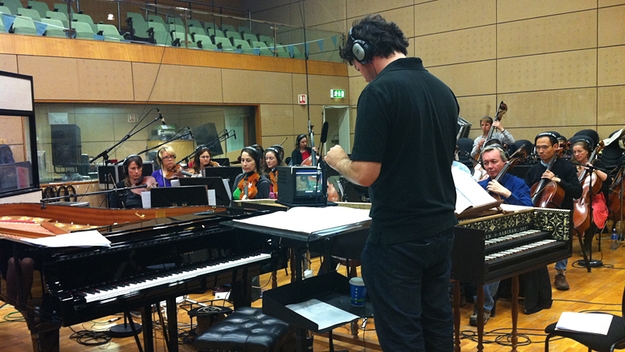 Brian Byrne working with the RTÉ Concert Orchestra

When he got there, he wasted no time: "I wrote this melody and I sent it to Alan and Marilyn Bergman who wrote all of Barbra's [Streisand] songs with the hope that they'll put it in their trunk and some day they might pick it up.

"Then a couple of years later Alan called me up and said, 'Do you remember that little waltz you sent us way back?' And I said 'Alan I've no idea how it goes it was a few years ago I really don't remember' and he said 'Well I have it here, I file the sheet music away' and he started to sing it down the phone to me.

"He said 'We'd love to write this for Barbra Streisand, are you up for it?' and I said 'Are you kidding!'

"We finished the song...and didn't hear anything for a few months…Then we were on holidays in Oklahoma and Jay Landers, whose Barbra's long-time producer called me up. To get a call from him alone - I'd been knocking on these people's doors for years and he called me up and said: 'Ms Streisand really likes your song and she wants to record it tomorrow, she wants you to arrange it.

"You came recommended by Bill Ross, the guy that conducts the Oscars. He heard your arrangements and he said you should arrange it yourself'. Now I'm in Oklahoma and he says: 'Can you be here tomorrow to conduct it live with Barbra Streisand and is there an arrangement, does it exist?'

"There was an arrangement, I had demoed it on a computer, I'd played in all the parts. The answer is always 'Yes, yes, yes' and then I got on the phone booked the first flight back to Los Angeles. I got in late at night and stayed up all night, got to the studio the next day and recorded with Barbra Streisand with the Bergmans, thanks to the Bergmans copy. If Alan didn't have an old-fashioned filing system, I wouldn't have been able to do it.
"Someone was looking out for me. That was just surreal, recording with an orchestra and Barbra Streisand over there and we'd just thirty minutes to get it down. Those opportunities, when they come up, you grab them, amazing."

However, not everything went to plan: "I told everyone that I worked with Streisand but then it [the song, If It's Meant to Be] didn't make the album, [What Matters Most], because they went with all old songs…

"I thought that's my opportunity gone and thought this was the walk of shame. Literally a year ago he called me up again and said: 'Barbra's doing a historic album [Release Me], she wants to release songs from the last thirty years and this is the only new song and we want to feature it so it came out.

"She was great, tough but great. I find when you get up on the podium and you work with any singer in the world, you go with what you know. Before you get there you're nervous but when you're up on the stand, it's like driving a car. We recorded the orchestra and we sent the orchestra home and as an option I worked with her for three hours on the piano and 'what if we did it in this key or this key' just for options.

"When we were editing the arrangement, she would call me and I would be in the playground with my son and then it would be: 'Ms Streisand wants to speak with you' and she'd be saying 'Why do you've high strings in there?'

"Just bizarre but it was wonderful."

Byrne was recently appointed as the first Artist in Residence with the RTÉ Concert Orchestra: "Anthony Long, the manager of the Concert Orchestra asked me if I'd be interested in becoming artist in residence with the Concert Orchestra.

"Essentially I've kind of being doing that in an unofficial capacity as much as I can I bring my projects in and I recorded my last CD. Anthony had commissioned pieces on that.

"I think it's a wonderful opportunity for any composer to have an artist residency because you can try out stuff, you have access to an orchestra in a studio and I now have connections in the music business with record companies.

"For example I got the album [Tales from the Walled City] out on Decca, which is the biggest classical music label in the world, which is great for the orchestra and great for me.

"We've a great synergy and it's a good way to develop your relationship and furthering it in an official way, documenting my music, recording the orchestra to the highest quality possible, I'm very excited about it."