Nick Cave just keeps getting better and better as he mixes the prayerful with the playful on Push The Sky Away, his 15th album with The Bad Seeds.
When Nick Cave looks out the windows of his office in Brighton, he has an expansive view of his garden and the sea. "It's very much set in my house," he says of his new album, the prayerful and playful Push The Sky Away. "When I look out those windows there's a garden and there's the sea. So on one level that's the environment it's set in, but it goes everywhere else as well."
It certainly does. Cave has always been the ruler of his very own kingdom of the imagination and his 15th album with The Bad Seeds sees him writhe with mermaids, ponder the "God particle", witness Lucifer meeting Robert Johnson at the crossroads, and even name-check faded teen idol Hannah Montana in song.
Now 55, Cave switches back to baritone-rich melodies and slow-burning torch songs after stalking the earth like a vengeful preacher turned Gene Vincent with Grinderman, the malevolent blues rock outfit that turned bands half their age ashen-faced with fear and shame.
He's taken the Cormac McCarthy approach for this latest instalment and hammered out the lyrics to this album on an old typewriter in that Brighton office and then joined The Bad Seeds in La Fabrique, a recording studio based in a 19th century mansion in the South of France, where the walls are lined with an immense collection of classical vinyl.
The south of France pushed the Stones to the very edge of their creative power forty years ago and it's had a similar effect on Cave and his band as they scale new heights of mad and arcane allegory with music that simmers and bursts aflame in equal measure. There's an ambient mood to the likes of We No Who U R with Warren Ellis playing flute and violin as Cave plays the romantic while on Wide Lovely Eyes, he's the poetic novelist conjuring myths and legends before he pours on some of the dark stuff on Water's Edge with Martyn Casey's tangled bass and the sea-saw sound of Ellis' violin uttering omens about a violent encounter in country.
Cave's superb second novel, The Death of Bunny Munro, springs to mind on Jubilee Street on which he mythologizes his adoptive hometown, barging about the crowded streets like an aging Lothario with "love in my tummy and a tiny little pain, and a 10-ton catastrophe on a 60-pound chain." Ellis scrapes away with John Cale-like austerity on viola but soonafter, he slowly releases perhaps the most beautiful melody heard on a Nick Cave album since 1997's The Boatman's Call.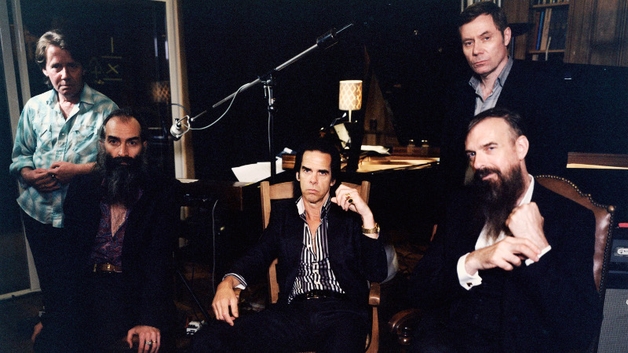 Cave and The Bad Seeds keep getting better and better with age
On Higgs Boson Blues, a song about the final collapse of religion in the face of logical science, Cave groans out an epic journey of spiritual decay, from CERN to Memphis, that pictures Hannah Montana and Miley Cyrus in out of body (and character) situatons (well, after Cave scandalised Kylie in Bunny Monro, it was probably their turn). He also sees Robert Johnson waiting for Lucifer who arrives "with a hundred black babies running from his genocidal jaw." Cave journeys into the Deep South guided by ominous tom toms, lilting harmonies and scratchy guitars that glow like a furnace and occasionally explode into life.
Cave stuffs every verse with word play, a tumble of lyrics spewing forth from his fevered brow; he hits a Memphis hotel where "the cleaning ladies sob into their mops and the bell hops hop and hop" as MLK breathes his last after "a shot rings out to a spiritual groove." The Bad Seeds are locked into a bubbling gumbo that would have Dr John nodding along sagely. You'll be enraptured for all of its eight minutes of sheer, beautiful strangeness.
It is one of many moments on Push The Sky Away when Cave once again subverts the normal trajectory of the literary rock musician's life - he and The Bad Seeds just keep getting better and better with age.
****
Alan Corr