The Musical launched with a short run in the Bord Gáis Energy Theatre in Dublin but due to demand is currently back on stage, this time in the Olympia.
En route the show has had a few changes, most notably the loss one of puppet as writer, creator Paul Howard aka Ross O'Carroll-Kelly, told RTÉ TEN's Taragh Loughrey-Grant and the show is continuing to get people talking (and singing). The tag 'Because all it takes is a few Muppets to screw an entire country' explains the story and the show is a highly entertaining mix of quick wit, catchy songs, great performances and a rollercoaster ride of emotions.
"I think Anglo the story of the bank's rise and fall and mirroring the rise of the Irish economy, it's the story of our times," Howard said, "It's probably the biggest event that's happened in Ireland's history since Independence, I just felt as a satirist I want to write about it, what else would you want to write about as a satirist?
"If Jonathan Swift was alive today he would be writing about Anglo Irish Bank because it is the only show in town."
It is now. Howard has incorporated an American style of puppetry, not often since on the Irish stage which in addition to being refreshing, is highly effective: "It's inspired by Avenue Q, [which] I saw on Broadway four or five years ago and I absolutely loved it. When I heard beforehand it was a puppet show, I really didn't know how it was going to work because I was aware that you see the puppeteer at all times with the puppet and I really was quite dubious about whether my eye would be drawn away from the puppet to the puppeteer but I was really surprised that didn't happen, that you do focus on the puppet the entire time you're watching it.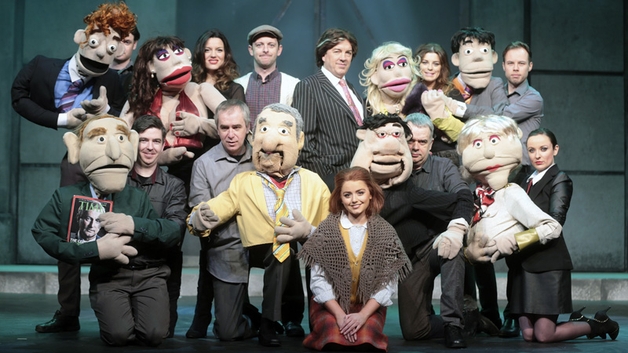 "People seem to love them, there's an Angela Merkel puppet, there's a Brian Cowen puppet, there's a Bertie Ahern and an Enda Kenny and people just go with them, the really seem to love them and respond really well.
"That was it really, I loved Avenue Q so when the producers Darren Smith, Johnny Morrison and Donal Shiels came to me with the idea and asked me would I be interested in writing the script for it and some songs, I just leapt at it. I suppose, with the Ross O'Carroll-Kelly books I'd been writing about the rise and fall of the Irish economy from a social point of view so I was familiar with that ground. When they mentioned a musical puppet show with big laughs and big songs, they just had me."
Regarding the changes between the first show and now, Howard added: "There were a lot of legal concerns, shall we say, with the first show because when I wrote the original script there hadn't been any charges laid in the Anglo case. I wrote it in March and then not long before we started rehearsals, three former directors of Anglo were charged in relation to actions at the bank so sections of it had to be rewritten.
"There are some new songs and one of the things that I felt with the first show, even though I really enjoyed it and people who saw it told me they loved it, they felt that the ending was a bit of a downer.
"My fear writing it was that people would say we weren't taking the collapse of the bank and then the consequent collapse of Ireland's economy, seriously enough. I was conscious of that and the ending was quite a serious ending and all the feedback we got was that people wanted to leave the theatre laughing and people wanted to leave the theatre hopeful at least.
"We had to find a way of making the ending more upbeat while keeping the thing in peoples heads that this is the most appalling things that happened to Ireland in Independence times, that they still wanted to leave the theatre feeling there was a bit of hope and it ends with a new song now, which I wrote with Chris de Burgh.
"It's called We're Still Here, Chris did the music for it and I did the lyrics and I'm really happy with it, it just changed the entire tone of the second act. In the first show people were feeling a bit of righteous anger and rightly so but this time they're feeling that their anger is vindicated but they're also humming a tune and they have a smile on their face."
It's true and hence the aforementioned emotional rollercoaster. The film rights for Howard's popular Ross O'Carroll-Kelly books have been optioned numerous times and he has his fingers crossed: "I love the character, I still love writing the columns and the books and I would love to think one day that we will see a screen manifestation of Ross."
Anglo: The Musical has a strong cast of actors adept at working the puppets often whilst joining in on numerous choreographed numbers however Howard didn't write with anyone in mind: "No, I hadn't. It was different with the Ross O'Carroll-Kelly plays I did; I was in on the casting but not with this.
"The producers…cast it and I have to say…I've been happy with absolutely everybody, they are really, really wonderful. Mark O'Regan plays Rich, the head banker, he's wonderful and David O'Meara, who plays Bertie Ahern, Stephanie McKeon who plays Aisling, she's incredible…she's a wonderful actress. They are a great group.
"Now with the new run, Caroline Morahan has joined and Aoibhinn McGinnity [Love/Hate's Trish], it's a really, really good cast. And Karl Harpur who is playing Diarmuid, he's brilliant."
Was there always plan for a second run, following the show's first outing in November in the Bord Gáis Energy Theatre? "You're never so ambitious to presume there'll be a second run, you just put it on and hope it's a hit. The fact that the Olympia has taken it now, that vindicates it for us, it has been a huge success."
Howard is currently working on a new O'Carroll-Kelly book: "It's called Downturn Abbey. There was quite a cliffhanger at the end of the last Ross O'Carroll-Kelly book.
"I don't want to spoil it for anyone who hasn't finished it but Ross and Sorcha have inherited this enormous house and there were a couple of other significant episodes that happened at the end of it as well, so Ross is trying to deal with those and trying his best to be a good father and for the first time in his life, a good husband."
Anglo: The Musical is on stage in the Olympia until February 2; click here for further information on the show